05.05.2013 Bulletin
by Marita
(Montevideo, Uruguay)
Consider:


"A country is not only what it does - it is also what it puts up with, what it tolerates." ---- Kurt Tucholsky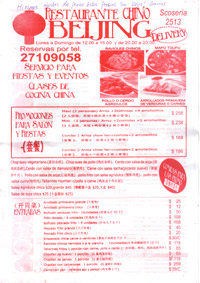 Our Montevideo Restaurant Tour continues
this week with a visit to the Beijing Restaurant Chino
, where, among other things, really spicy food can be found, so for all of you with a burning desire to call the fire brigade while having dinner, this is the opportunity for you! (There is also medium-spiced fare, and downright bland items, so do not be frightened off.) The menu is appended, but please note that the prices have been raised by about 30 pesos all around.
Join us a 14:00 (2 pm), by which is meant 14:00 (2 pm) at the latest--feel free to come earlier
-- because they want to close at 16:00 (4 pm), so if you wander in at 3:30, do not be surprised if it is a really short get-together for you..... :-)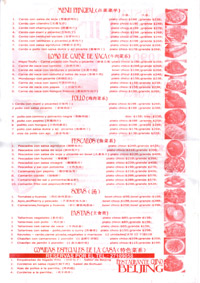 The
restaurant is located at Dr. José Scosería 2513
, esquina Luis Franzini, just east of 21 de Setiembre in Pocitos.
Other items to pass along include:
1. Don't forget that
Mother's Day is May 12!
2. It was suggested that someone who could easily do so go by
periodically and check the computer at Immigration
to see what the current stand of their application for permanent residency is. It was also said that people would be happy to pay 100 pesos per check for this service. Although one must keep in mind that the computer info is not always up to date, it can be checked regularly, and you will be informed of what it say--for what it's worth.
Therefore, anyone who would like to take advantage of this opportunity should please send me their name and the number on the back of the cédula, the D.N.M. Number, along with how often you would like to have it checked (or when the first check should be, and then write any time you
would like the check to be repeated), with each query of the computer to be compensated with 100 pesos. (Unfortunately, this opportunity is not available for people who are having their paperwork handled by the law firm of Fischer & Schickendantz.)
3. There is now a
new system at Immigration
, whereby only 100 numbers are given out each day. One experience was that, after arriving at 8:45 am, and queuing until the numbers were handed out shortly before 11, only number 40 was received. So if you have business there, go really early or be prepared for a very very long wait, or even that you might not get one of the 100 numbers.
4. A possibly relevant tip for those people farming and gardening:
The NWO is at it again with trying to control the food supply. And this
new law looks like it's trying to outlaw heirloom seeds
and savings seeds... how convenient for Monsanto.
Get a stock of seeds while you still can.
http://www.infowars.com/european-commission-to-criminalize-nearly-all-seeds-and-plants-not-registered-with-government/
I just placed two more orders for heirloom seeds. One from the UK and one from the US. My test orders last august made it through in spite of the postal strike. It looks like if you keep the order under US$50, it sails through customs without any trouble.
5. And another person has suggested that we might like to enjoy
some entertainment
at one of our get-togethers in the form of David McIntyre,
a Blues man from the USA
. This would require payment of $1000 for 3 hours of music, which shared among the group would not work out to be so very much per person. Of course, he is also available for any parties you might be planning, or, who knows, serenading your love.
6. This
is the week for the Friday meeting
at 8 pm (or thereafter) at Costa Azul in Pocitos.
That should suffice for today. Do please keep sending in tips and questions for the bulletin--that's what it's for.
Hope to see you Sunday, Marita