Accommodations in Uruguay
Accommodations in Uruguay are available to you in a wide array of price ranges. From exotic luxury surroundings to a rustic campsite, you can choose the adventure and environment that suits your taste and budget.
You can certainly find the exact type of lodging that you want while exploring Uruguay at a price that will make you happy.
When exploring any country you need to make sure that you have your lodging reservations arranged beforehand. There may be some rooms that are available at a moment's notice but during holidays and prime vacation season it can be difficult to find the type of Accommodation in Uruguay that you really prefer if you wait until the last minute to begin your search.
Accommodations in Uruguay, range from 5 star luxury suites
to budget priced hostels. There are even private homes and apartments that tourists can rent for a night, a week or several months.
For the adventurous minded traveler campground sites are another option to consider. In the city of Punta del Diablo a campsite will cost only $5 which is a bargain in any country. If you have a tent and a sleeping bag you can bed down under a canopy of twinkling stars and be lulled to sleep by the rhythmic sounds of the ocean waves.
The larger tourist centers will naturally have a wider variety of accommodations in Uruguay. Montevideo, Punta del Este and Colonia del Sacramento all have numerous lodging facilities from which you can choose. While the selection of rooms and lodging accommodations may offer more diversity in the big cities even the smaller towns will be able to provide you with some unique and interesting places to stay during your travels.
Budget Choices
If you are on a tight budget or just want to keep your expenses as low as possible then you might want to consider one of the hostels in Uruguay. El Viajero Hostels are located in several major cities in Uruguay. These Accommodation in Uruguay are clean and often provide a number of perks for visitors. In addition to breakfast, bike rentals and internet hookups a large number of these hostels are also located near the beaches. This means that you can enjoy a seaside stay at a budget price.
There are many other Uruguay hostels that are available and these will cost $12 - $35 dollars per night, although this price can vary depending on the time of year that you are visiting. Since these Accommodation in Uruguay are so affordable you will need to make your reservations as early as possible to ensure that you get the rooms that you want.
There are also some budget priced accommodations in Uruguay which include hotel rooms in Montevideo and Colonia del Sacramento. For $25 - $55 you should be able to reserve a room and private bath at a number of reputable hotel sites. Again you need to remember that these budget prices mean that these rooms will be taken quickly, particularly during the peak tourist season.
Luxury Stays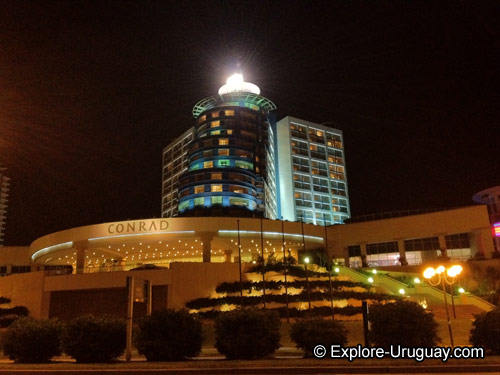 Luxury Accommodations in Uruguay are available in the city of Punta del Este as well as in the capital city of Montevideo. For prices that range from $150-$500 per night you can stay at a resort that includes private pools, spas, on site restaurants, private access to beaches and personalized service. If the Four Seasons is your hotel of choice you can reserve a room in Carmelo, Uruguay. Here you will find well appointed accommodations, a world class spa, fitness center and elegant dining. In Montevideo there are also a number of highly rated hotels such as the Sheraton and the Radisson.
Cabana Rentals
Cabana rentals are another option when considering the type of Accommodation in Uruguay that you will select.
These are available for tourist who stay a week, a month or they can even be rented for the entire summer season.
These cabanas are found along the coastline and are available from the owners. If you rent one of the private cabanas for your vacation you will have privacy and be able to fully enjoy the beauty of the ocean.
Many people find that when they are traveling in a small group the choice of a cabana is not only fun it will also save them money.
Unique Uruguay Accomodations
Montevideo is home to a variety of unique Uruguay accommodations. One of these sites is the Arapey Hotel
that is only a few feet away from the Ciudad Vieja. The Arapey Hotel is also a perfect example of art deco architecture. The convenient, downtown location makes this a good choice for those that want to stay close to the center of Uruguay's capital city.
La Puerta Negra is one of the newer names on the list of Uruguay accommodations. This Montevideo lodging facility opened its doors in 2007 and was designed to be a bed and breakfast inn for gay men. This unique accommodation has quickly proven to be popular and rooms need to be reserved early because 16 is the maximum number of guests.
Posada del Bosque is one of the popular Uruguay accommodations for travelers who are staying in the city of Colonia del Sacramento.
Moderate prices and outstanding comfort have made this hotel a favorite of tourists.
Accommodations at the Posada del Bosque include a private bath, WiFi, cable TV and a continental style breakfast. The hotel staff speaks Spanish and English and you can even have a room with air conditioning if you prefer.
Guests are only a few blocks from both the beach and the historic, downtown district. If you are looking to book a Bed and Breakfast or want to stay at a Youth Hostel, I would suggest checking out Hostel World.
You can also check out our Hotels in Uruguay or for the more refined taste, visit our Luxury Hotels in Uruguay. So now that you have a place to stay while you visit Uruguay, why don't you grab your camera and sandals because we are leaving your Accommodation in Uruguay and going to Explore Uruguay some more.