About Uruguay Food
There is alot to learn about Uruguay food and it can be a welcome adventure for the many people that explore Uruguay each year. With so many cultures influencing the cooking in this South American country it means that you are in for delectable meals no matter which part of Uruguay you may be visiting.
There are a number of different dishes that are now served in restaurants, cafes and hotels in Uruguay. You can even stroll along the streets and purchase a variety of easy to eat foods from sidewalk vendors.
One thing you should know about Uruguay Food is that it is a very important part of Uruguay life and the people of Uruguay are eager to share their recipes and favorite dishes with tourists. Uruguay is known for producing outstanding beef, fresh seafood is caught daily along the coastal shores and a wide variety of fruits and vegetables are grown on farms throughout the countryside.
The use of fresh ingredients along with creative cooking ideas means that there is something about Uruguay food is indeed a true treasure.
Milanesas are a very popular food choice for visitors and the people of Uruguay. This tasty dish is one that can be found in many other countries besides Uruguay.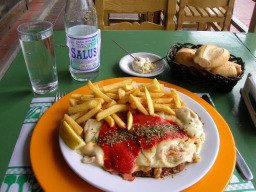 Milanesa Napolitana
The unique difference that sets these Uruguay style dishes apart is how the milenesa is created and served. Basically this dish consists of a filet portion of tender meat which is coated with breadcrumbs and than dipped into an egg batter.
Cooks will then fry the milenesa to give it a crisp outer shell. Some people may realize that the preparation of this dish is almost identical to a sandwich called the Monte Cristo.
Many of the people of Uruguay prefer a milanesa sandwich for lunch or dinner. These delicious meals can also be ordered al pan which means it is put on a sandwich or bread with lettuce, garlic flavored mayonnaise and slices of tomatoes.
Then there is the milanesa napolitana which is frequently served in a style that is similar to an open faced sandwich. The thinly breaded filet of steak is fried in hot oil and then mozzarella cheese, sliced ham and sliced tomatoes are placed on top of the fried meat. There are many different Chivito Recipes, such as chivitos canadienses which are popular with the people of Uruguay and tourists alike.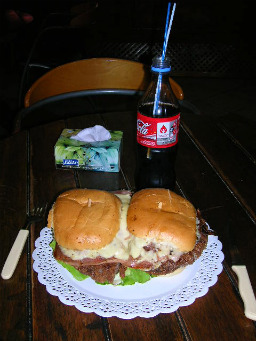 Chivitos are steak sandwiches served with toppings of mayo, ham, tomato slices and mozzarella cheese.
chivitos canadienses have additional toppings that include olives, peppers, bacon, pickles, sliced eggs and onions. Although you will notice that chivitos is most commonly served sandwich style it can also be eaten as a chivito al plato which means it is served without any bread.
During the colder months of the years many restaurants will be serving a thick, rich soup called puchero. This dish is made from beef and a variety of vegetables such as yams, squash, onions, corn, carrots, greens and potatoes. Cooks will simmer this stew for most of the day in order that all of the flavors can be extracted.
There is something about Uruguay food named Pascualina that most people who Travel Uruguay will find comforting and familiar. This dish will remind many people of a Quiche Lorraine because it is a pie cooked with a filling of eggs, heavy cream and tender greens.
Uruguay food has been the product of a combination of cooking influences. Pastas, barbecued asado, delicate sweet pastries, spicy sausages, hearty stews and other dishes are the result of the country's rich culture and history.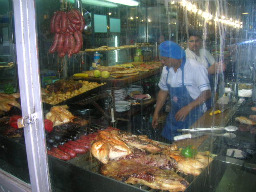 Another thing about Uruguay food is that it is easy to distinguish some foods that originated with Italian, Spanish, Portuguese, French, African, German and European settlers.
Uruguayans have kept some of the original recipes and many others they have modified and changed to make them distinctly their own. For a number of travelers a Uruguay food that tops their list of favorites is Asado.
The beef is always roasted over hot coals for long hours which imparts a rich, smoky quality to the meat. This is Uruguayan barbeque that is exceptionally tender and has a hearty, spicy flavor that keeps people coming back for more.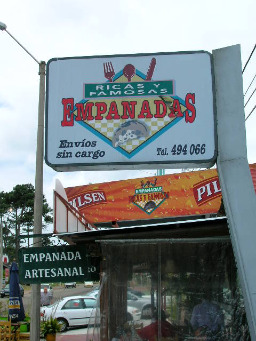 The empanada is a type of Uruguay Food that can be eaten at a restaurant or enjoyed while strolling through the streets of the cities in Uruguay.
In Uruguay this small turnover is wrapped around a filling of ham and cheese, beef or pork and then deep fried to a golden brown. You might also want to try the empanada Gallega which is filled with fish, onions and peppers.
Pizzas are available at a number of restaurants but if you want to sample a more Uruguayan food then you should try faina. This is similar to flatbread and it is made of chickpea flour, water, salt and olive oil.
On the 29th day of the month Gnocchi is the Uruguay food that most families will traditionally eat. This, like other pasta dishes, is considered a Uruguayan staple.
The reason for the Gnocchi tradition is that the 29th used to be the day before the workers would be paid and it was also the day when the family budget was at its lowest point. Gnocchi was simply a filling food that had good flavor and was cheap enough for almost everyone to afford. Fettuccini, ravioli and cannelloni are other pastas that are used to create many different Uruguay dishes.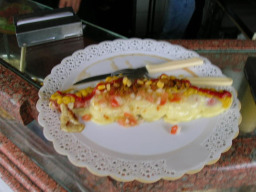 A pancho is what most people of Uruguay call the hot dog. This Uruguay food is served in a bun and includes toppings such as garlic mayonnaise, salsa, ketchup, onions, relish and mustard.
As you explore the many cities of Uruguay, you can buy 2 or 3 of these hot dogs for somewhere between $1.00 - $1.50 at one of the many Hotdog stands or fast food concessions. They are sold everywhere If you want a spicier style of hot dog you can request a Hungara.
For those with a sweet tooth there are a wide variety of cakes, cookies such as the alfajores and other baked goods to consider which will also include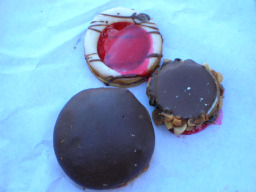 Flans which are always popular as well as Dulce de Leche which is considered to be a national treasure. This is a sweet filling that is used in many different bakery items.
When you think about Uruguay Food and drink, Yerba Mate needs to be at the top of the list. This is a traditional Uruguay drink and it is one of the most popular beverages in the country. It is made from the yerba mate plant and is similar to a tea.
During the winter Grappamiel is a beverage that some people make from honey and alcohol.
When it comes to learning about Uruguay food, it seems that there are many different foods to eat each day. The fresh ingredients and spices are used to create delicious flavor combinations that are certain to become some of your favorites.
If you want to learn more about Uruguay food, then take a look at our Uruguay Food Recipes