About Explore Uruguay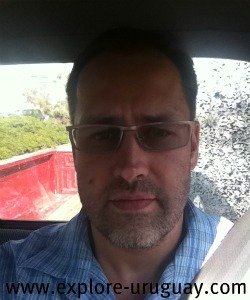 Do you want to Learn about Explore Uruguay?
Hello my name is Roy and I began to develop Explore Uruguay in November 2007 after visiting and falling in love with the customs, culture and people of Uruguay.
When I first began to write about Uruguay there was not very much information in English on the internet.
Some of things that initially drew me to Uruguay included the quality of Air, water and Produce
What I discovered was a land of incredible beauty, rich in culture, customs and history.
I found the people of Uruguay to be fascinating, warm, kind, welcoming and sincere. The pride and love that the Uruguayan people share for their country was evident everywhere.
Prior to traveling to Uruguay, I researched Quality of Life on the internet and soon realized that Uruguay was the perfect country for me.
A little bit about meI was born in Vancouver British Columbia and currently reside in Montevideo Uruguay. I am fluent in English and German and study spanish daily.
I have 3 dogs. a pure bred Dogo Argentino named Shasta Blue a pure bred Bouvier named Zoe and a border collie pit bull cross named Dante.
I enjoy walking with my dogs every morning in the mountains around my home. My days are spent working from my home office and developing Explore Uruguay
Future plans include buying a house in Uruguay and spending my time exploring this wonderful South American country.
Favourite Quote
You will never work a day in your life if you enjoy what you do.
My Goals with this site are to continue providing new information about this unique and wonderful country that I have grown to love and someday hope to call home. Here are some of my pictures of Uruguay and Uruguay Videos