Uruguay Info Exchange (UIE)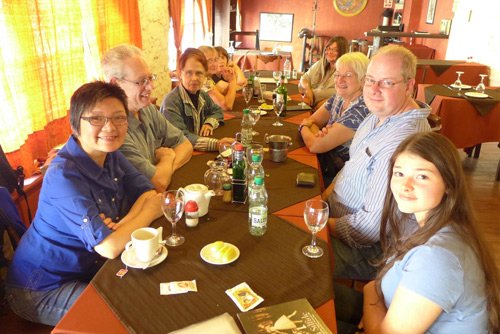 Come join us at this weekly get-together where people living in Uruguay or thinking about living here can come and discuss questions and challenges arising from this fact.
We get together every Sunday, this week at La Papoñita on June 29th at 14:00 (2 pm) and you will be most welcome.
Uruguay Info Exchange changing venues: Check back regularly for the latest info on the meeting location.
Uruguay Info Exchange 22.06.2014 Bulletin
Consider:
"Transported to surreal landscape, a young girl kills the first she meets and team up with three strangers to kill again." -- Rick Polito, Marin Independent Journal's TV listing for "The Wizard of Oz".

Dear Folks

Well, should it risk it? Something about "La Papoñita welcomes serial biters, since they have lots to bite in to?" No, probably not.... Let's go with "Hooray for Uruguay! 3 Cheers for the Team!"

And of course there will be lots of games on Sunday, but despite this, we will meet as always and every Sunday at La Papoñita at 14:00 (2 pm) for discussions of fútbol and everything else. So come and join us.

There's lots going on at this half-way point for the year, so on to the items for the week:

1. Warning: Those of you who have accounts at the BROU may or may not have received word from them that, on July 1, 2014, they are closing accounts of people with tax reporting obligations in the USA who have not signed a form agreeing to have that information on these accounts sent to the IRS. If you did not receive a notice from them, it does not necessarily mean that your account is not subject to this rule. And, even if you don't have an account at BROU, it might be a good idea to check with your bank as to their policy, and go sign papers before Tuesday if such are required.

2. ATM problems--One of our participants urge caution when using ATMs. She writes:

By the way if you use atm machines here with your foreign accounts you must watch out for mistakes. We have lost 600$ in the last month and now we are fighting Wells Fargo to get it back. When we went to the machine it said that it couldn't process the transaction, yet it took the money from our account in the U.S. It has happened at both Banco Commercial and BROU.

3. Cuban Store--has ice cream in Cuban flavors. More research is necessary to find out exactly what this means, since it implies tropical fruits not (?) available here, but you can go by on Ellauri esq. Brazil, and let us know what you find.

4. Massage and Spa therapy, anyone? One of our number writes:
I am a massage and spa-therapeut, and have been working in different International spas in Sweden and Denmark, as well as here in hotels in Montevideo.

I give relaxing massage, sport-massage and also treatment-massage (work with different trigger points in the muscles where the pain is coming from ), it's very effective !!

If you feel you are in need of massage, don't wait to contact me and I will come to your home with my massage-bench.
My email is: hanna_m18 (at) hotmail.com
cellphone: 091722913
1 hour is 700 pesos, 1 1/2 hour is 1000 pesos.

5. A New UIE Web Site--Every week, the Bulletin contains both timely information (for example on concerts or blueberry picking) and information that has a longer shelf-life (for example on Doctors or General Services). Some people have said they made an extra folder to keep all the Bulletins so they can refer back to items of interest, but that still leaves the info unorganized and hard to find. For a long time therefore, the goal has been to create a web site where this information is more easily available for reference. Explore-Uruguay has finally decided they do not want to take on the added work, but the costs of such a web site on our own have meant that it has remained a plan.

Until today. Now the information has been reorganized and put up, but this is by no means a "cool" web site. The tools provided by the host are humble, so there are not many options, either with regard to design or with regard to programming. In particular, the topic list must be scrolled through, since it is not possible to make links to click on.

So the choice is: A cool, well designed web site that doesn't exist (but would be cool and well designed if it did), or a primitive site that makes all the information available.

What do you think? Is the site worthwhile? Or is it just too primitive to be worth the effort?
Go to www.uruguayinfoexchange.de and check it out. Of course, all suggestions for improvement and for more info to include will be appreciated. If it is deemed worthwhile, I will keep it up. Let me know.

Which covers enough for this week, for this month, and for the first half of 2014. Where did the time go???

Getting to our weekly get-together at La Papoñita in Montevideo, which is at the corner of 18.de Julio and Minas (right next to the park), should be easy, since you can basically take any bus that goes up (or down, depending on your location) 18 de Julio. From Pocitos, 62 runs down 18 de Julio, and 427 goes along Guayabo, and you can get off at Minas. Or you can take a bus that runs on Mercedes or Uruguay--just a couple of blocks away. If you have specific questions about how to get there, just ask.

Hope to see you Sunday at 14:00 (2 pm).

Cheers, Marita
Map
Contribute to the Uruguay Info Exchange
Do you have a great story about this? Share it!
What Other Visitors Have Said
Click below to see contributions from other visitors to this page...