23.12.2012 Bulletin‏
by Marita
(Montevideo Uruguay)
Dear Folks,


Since the day was beautiful, a lively bunch again sat outside Torrente, and enjoyed the conversations on a myriad of topics.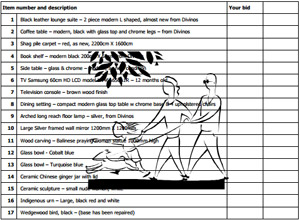 And this bulletin comes to you so early because there is a special event coming up, and it is hoped that, by letting you know about it early, you can take advantage of the opportunity.
1. The Event is a Silent Auction at Zara and Kanan's flat in Ciudad Vieja next Sunday, January 6th, from 4:30 to 6:30 pm. They have sold the flat, and it must be empty, so they are selling everything in the whole place.
A list of all the items for sale is appended to this bulletin, both as a .docx file and as an .rtf file, so I hope you have no trouble opening it.
The sale will take place right after the UIE get-together at Torrente next Sunday, and snacks and drinks will be provided at Zara and Kanan's.
Location: Reconquista 534, esq. Alzabar, Edificio MonteCarlo, Apt 603
Tel: 091 733 712;
You can go by to see things beforehand if you like,just phone in advance.
2. A recommended restaurant, owned and operated by a French couple, is on Zabala at the corner of Sarandi. The name is unclear--has something like "ethnic" in the name--and is only open about 3 hours a day. But they have really good things, and the prices are said to be quite reasonable, so you might want to try it out.
3.
The mosquitoes are out in force, but you may find some relief through an App for the iPhone or Android phones. Look for "Sonic Mosquito Repeller" or some such, and there are several that are free for you to try. Some let you switch from dragon-fly sound (dragon flies eat mosquitoes, so they flee from the sound) to male mosquito sound (pregnant females are the only ones that bite, and they don't like to have male mosquitoes around).
Alternatively, there are very cheap little gadgets for purchase that emit these sounds. (Some also have a setting to drive rodents away.) Check out eBay, for example, where you can order them from China, and they come through customs here without a problem. They seem to work, at least partly, and might be worth a try.
4. Sour cream is in fact available here, under the name "casen crema", at some stores, including Tata and Multi Ahorro. It is not always available, but you can keep an eye out for it.
5. Christmas here will be celebrated by all, so get anything you still need on Monday, before the shops close--which will be earlier than usual. And word is that everything will be closed on Monday evening and all day Tuesday.
6. Have a wonderful and very merry Christmas! And if you have not done so already, you might want to watch a short video of a flash mob in a food court breaking out in the Hallelujah Chorus at