Travel in Uruguay
You need to be familiar with how to travel in Uruguay while you explore this wondering little country in South America. Modes of transportation vary and knowing how to get about from place to place will make your vacation a smoother, less stressful and more enjoyable experience.
Travelling around Uruguay depends largely upon which Departments of Uruguay you are visiting. It also depends upon your original starting destination.
Travel by Boat
If you are in Argentina you may want to travel to Montevideo Uruguay by Buquebus which is a speedy boat service that travels the waterways between the harbor in Montevideo and central Buenos Aires. If this is your choice of travel in Uruguay you can expect to pay about $100 for a round trip ticket. One way service is also available and will cost you roughly half this price.
Sometimes you can travel in Uruguay by private boat. There are some local residents who are very familiar with the River Uruguay and are willing to ferry you about for the right price. Travel on the River Uruguay is possible between the cities of Salto and Colonia del Sacramento. You can also navigate along the Rio Negro which is in the northern part of the country and travel all the way to port of Mercedes Uruguay.
Trains in Uruguay
Rail service is another way to travel around Uruguay for those in Montevideo and neighboring communities, but this form of transportation is used almost exclusively by the local people of Uruguay. You may find though that the railways do not maintain strict time schedules and can be quite unpredictable when it comes to arrivals and departures.
Airline Travel
There are some domestic charter flights available within Uruguay although the commercial flights are now discontinued. If you need to travel in Uruguay by air you may want to check with Aeromas airline. The other Airline in Uruguay is known as BQB and local people of Uruguay find this to be the most popular airline. If you are flying in Uruguay you will be departing from either the Spectacular and New Montevideo Airport or from the Punta del Este Airport.
Bus Services in Uruguay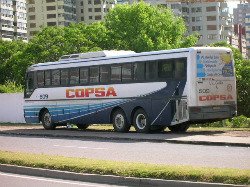 There are two bus lines offering transport services for visitors who wish to travel in Uruguay. Both COT and COPSA offer good service with reliable schedules.

These bus routes connect with all the cities in Uruguay and travel as far as the cities on the Brazilian border. Visitors to Montevideo and nearby communities will find that there is a bus that can take them nearly anywhere they wish to go for one standard fare.
I took a bus from the Montevideo Airport to the city of Punta del Este and let me tell you, I was quite surprised at how friendly the locals that were on the bus were. Their English may not have been very good, but it was certainly better than my Spanish and they were so welcoming and interested in where I came from and how I liked their Country.
Cars and Scooters
Private cars and scooters are also available for rent if you want a more personal chance to while you explore Uruguay. Scooters will let you see the sights and avoid the congestion of most major roadways. You do have to possess a valid driver's license or an International Driving permit to choose one of these forms of transport. I rented both Scooters and cars and found them to be reliable, clean and cost effective.
The same places that rent cars and scooters, will also rent you a bike if you want some excercise or to discover this remarkable South American country at a more leisurely rate.
Take a Taxi
Taxi service is one of the most popular means of travel in Uruguay for tourists.
You can ask the driver for the fare ahead of time as they all have listings that tell how much a certain trip will cost.
There are taxis in all Major cities of Uruguay as well as the national airport.
If you are just traveling within the city you may even be able to negotiate an hourly rate as opposed to paying the metered fare.
What I really like about the Taxis in Punta del Este was not only how clean and nice they were, but that they were relatively easy to find. There were Taxi kiosks everywhere.
When you are planning to explore Uruguay, then you will definately want to check out all Uruguay travel tips. These modes of transportation. You will meet lots of good people from Uruguay and probably makes several friends along your travels.