Punta del Este Uruguay
South America's
Premier Beach Resort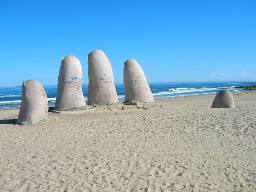 Punta del Este Uruguay is a beautiful resort area in the small South American country of Uruguay.
This warm and sunny location is actually part of a peninsular region found in Uruguay's southeastern corner.
Known as the Pearl of the Atlantic, at one time, Punta del Este was just a remote, rural fishing village that was far removed from most of the popular tourist destinations, but things have now changed and Punta del Este Uruguay has become one of the favorite upscale attractions for travelers and guests from a number of different countries.
There is a wonderful amount of panoramic vistas, tropical scenery and dazzling native sites to suit the tastes and demands of anyone. The peak tourist season occurs during the warmer summer months when beach goers flock to the region but Punta del Este has also managed to create a year round tourist trade by constructing a number of permanent, residential guest communities.
Punta del Este Uruguay is now lined with an abundance of high rise buildings, condominiums and casinos rivaling those found in many large, metropolitan cities. Fortunately the planners were able to make sure that many of the historical landmarks and distinctive older buildings remained intact.
One of the most popular areas of interest in Punta del Este Uruguay is La Brava. Visitors to La Brava Beach usually come to surf the rough, tall waves which break along the coastline. The crowds which are on the beach are generally 35 and younger but people of all ages enjoy coming to watch the dazzling skills of the surfers who come here to test their own skills and talents against the mighty Atlantic Ocean.
There is another side to La Brava Beach that guests can enjoy as well and this is La Mansa Beach which is the shoreline that borders the river. Visitors who come to explore La Mansa will experience much calmer and gentler waters and they are bound to thrill to the vibrant palette of colors that are displayed in the sky each afternoon at sunset.
But there is more to the real-life paradise at Punta del Este than just the sun, sand and surf. Visitors and locals alike are able to enjoy long leisurely strolls along both the shoreline of these beautiful beaches and city streets. There are colorful shops, delightful restaurants, small cafes and other stops to make as you wander about this enchanting area.
Punta del Este Uruguay has a large dock and marina where workers and residents can welcome boats and yachts from all over the world. Even if you did not come to the region aboard one of these sailing vessels you will certainly have fun strolling along the docks and sightseeing.
La Mano is a giant-sized hand sculpture made of concrete that reaches out of the sands of the Atlantic. This unique landmark is a major tourist attraction in Punta del Este and is one of the most photographed of all the local sites.
Travelers can also explore Casa del Pueblo which is an art museum that was long ago built by and considered home to famed Uruguayan artist, Carlos Paez Vilaro.
Aside from simply taking in the beauty of its breathtaking beaches, some of the more popular daytime activities to be enjoyed during a stay in Punta del Este include fishing, hiking, windsurfing, sailing, horseback riding, Surfing, tennis and golfing. But nighttime is seemingly where all the fun and revelry really begin.
One of the best ways to experience the local culture is by discovering the sights and sounds that the night life has to offer.
There are a number of great restaurants offering a long list of exquisitely prepared, authentic dishes.
Many guests find that they end up spending long hours celebrating with friends at local clubs and discos while dancing to a variety of hot Latin American musical styles.
La Barra Uruguay, which is a small town located very near Punta del Este, is extremely popular with the 30 and under crowd. This is where the young people congregate to enjoy food, drinks, music and fun until the wee hours of morning.
Punt del Este is known as a place where you can enjoy great food, good music and exciting moments. This popular vacation getaway is also a favorite destination to some of the "movers and shakers" in countries such as Brazil and Argentina.
There are several 5 star hotels and resorts located in this area including the Conrad del Punta del Este Resort and Casino that is in the center of the district; and Mantra Resort Spa and Casino which is a chic, elegant resort located on the top of a hill overlooking the city.
My Visit to Punta del Este Uruguay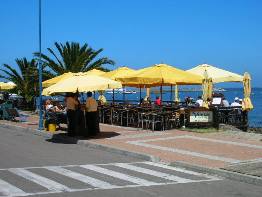 I arrived in Punta del Este Uruguay by bus. Since it was late, I walked to the nearby Days Inn Punta del Este. The room was nice but small and the price was $75 per night for a double bed.
The next morning I tried to fire up my computer, but had a problem with the energy conversion to charge it. I then decided to try some one else. I found a nice Hotel called the Principe Hotel Punta del Este. It was 5 minutes from the beach and right in the downtown area. I paid an average of $50 per night and really enjoyed my stay there.
The Hotel had excellent computer connection from my room and I was able to walk to the beach as well as shop within minutes of the hotel.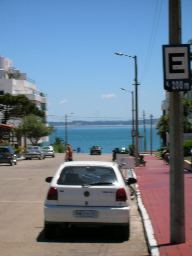 I also took a 4 hour bus tour of the city which I recommend when visiting here.
The Tour cost me about $20.00 and finished off by stopping at Casa del Pueblo at sunset. This is a very unique, hand built castle built by Uruguays most famous artist and poet.
One of the other Uruguay tourist attractions that I visited was Isla de Lobos where you can see about 200,000 sea lions swimming around and soaking up the sun or swimming around the Calypso boat tour.
Relate Articles