Uruguay Food is Amazing
I love Uruguay Food! Ok, so I admit, Im a big eater and nothing I like more than seeing a portion of food that actually covers my plate. If you are like me and like a good thick steak or large meal, then you have to try some authentic food from Uruguay.
The national dish of Uruguay is known as churrasco or barbecued meat and is served everywhere. You really havent tried a good cut of beef until you have eaten beef in Uruguay.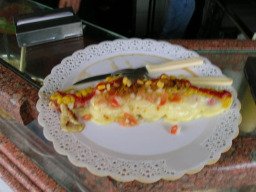 Pasta is also quite common in Uruguay and a favourite Uruguay recipe is ravioles
Another favorite dish, often found in bars, is known as Chivito which consists of meat, fried egg, ham, cheese, and mayonnaise and several other ingredients depending on the type of chivito you are enjoying.
It can be enjoyed for around $7. Uruguayan cuisine bears many Spanish influences, making a meat stew, known as puchero, a popular dish.
Seafood is widely eaten as well. A popular restaurant is Los Rueben in Maldonado. I was told by several people of Uruguay that this is where I could sample some of the best beef available in the Region.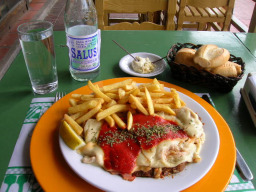 Another way to get great, inexpensive food in large quantities is to go to the Steak and medio medio (a 50-50 mix of champagne and white wine) are common purchases at this market, and meals generally run between $10 and $20. Colonia del Sacramento, a 17th century Portuguese settlement of ten-blocks filled with restaurants, provides a similar atmosphere to the Mercado del Puerto. Pizzerias abound here, and prices tend to fall below those at Mercado del Puerto, generally around $4.
There are many other types of Uruguayan drinks in addition to medio medio. Yerba mate, a kind of tea, is very common. It is not often served in restaurants but rather brewed and enjoyed at private social gatherings, costing about $3.50 for a box.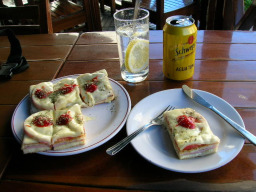 Uruguay's reputation for fine wines is steadily growing, particularly those made from the Tannat grape. A drink called clericó consisting of white wine and fruit juice is popular, as is white mixed with sparkling wine. Uruguayan beer is also highly recommended.
You can learn a great deal about a Culture by their eating their food. One thing you have to know about eating in uruguay and food in the Uruguay cultureUruguay culture is that they love to add Cheese! Thats right Cheese, and not just a little. Alot and here are a couple examples of what I consider to be alot of cheese with a meal.
I went to the Los Ruben Parilla in Punta del Este and was - cheese which is where the locals hang out and and is just north of Punta del este.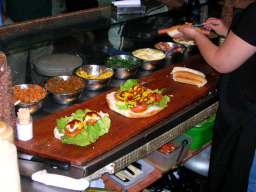 So now here you are. You've read about the food of Uruguay, I've shown you pictures of some of the scrumptuous and delicious eats from Uruguay but some of you are saying to yourselves
"That all looks great but Im on a budget
and couldnt possibly afford to eat like that every day."
If you're wondering how to shave some dollars off your Food budget while in Uruguay, then I have some solutions for you.
I built another page on this website just for you. Thats right!
Just follow the link to find out how you can buy nutritious and delicous and maybe better yet, Cheap Food in Uruguay
Oh, I almost forgot. If you like to cook and want to try cooking some authentic Uruguayan food, then check out my Uruguay Food Recipes