Pictures of Uruguay
Welcome to my Pictures of Uruguay page. Here you will find links to many of the pictures I took while visiting Uruguay South America.
My Uruguay Picture pages include:
Uruguay Food
Uruguay Tourist Attractions
Uruguay Beaches
Unique Architecture
Uruguay Shopping
As well, as pictures of some of the wonderful people of Uruguay that I met while exploring this enchanting South American Country.
On my latest trip to Uruguay South America, I took over one thousand Uruguay Travel Pictures as well as videos of many of the interesting things I experienced while in what I can only describe as a South American Paradise.
I especially enjoyed taking Photos of Uruguay culture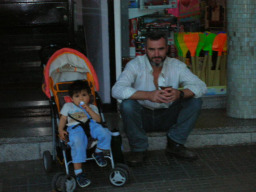 I took this photo in Colonia del Sacramento, while strolling the streets on a sunny Sunday afternoon. This Father and son were just sitting outside a shop enjoying the sunny afternoon.
I asked the father if I could just snap a quick picture of his son and himself as he enjoyed his "Mate," he just shrugged and smiled and looked at the camera in a somewhat serious manner as I snapped a quick pic.
When I said thank you for allowing me to take the picture, he again began to smile and handed me his Mate a traditional caffeine drink that people of Uruguay love to drink both hot and cold.
Later that evening I had the opportunity to look at this picture and what struck me was the gentlemans eyes and demeanor. He looks to me like he's worked hard his whole life, yet is content to sit with his very young son, looking on as he drank his Mate.
I love this beautiful and welcoming South American country and its culture.
If you would like to contribute some photos with some accompanying information on the picture and perhaps why you took it or special memories that it brings, just drop me a line and I'll gladly add it to explore uruguay.