Colonia del Sacramento Uruguay
Colonia del Sacramento Uruguay is a stunningly beautiful restoration of an original colonial city. This popular attraction boasts homes, gardens and parks that date back to the 1600s, and they have all been meticulously restored to their original grandeur.
Today people come from many countries to enjoy the wonder of viewing
Some of the World's best examples of early Spanish and Portuguese architectural styles and planning.
The magnificent homes, grounds and buildings are a grand tribute to 17th century life in Latin America and now Colonia del Sacramento Uruguay is one of the finest restored colonial cities that can be found in any country. To complement this unique setting all visitors are also able to explore a number of more modern sites such as cafes, bars, boutiques and restaurants.
CULTURAL HERITAGE OF MANKIND
This is the title that was given to Colonia del Sacramento Uruguay by UNESCO. The grand name is well deserved by this city in Uruguaythat is true jewel from the Colonial past.
This city lies along the River Plate and the cobbled streets, drawbridge and ancient walls have all been restored to their original condition. A number of the 17th and 18th Century dwellings have now been converted into museums that are filled with furnishings, paintings and items that were used by the people who once called these buildings their homes and businesses.
The hotels and restaurants in Colonia del Sacramento Uruguay have all been constructed so that they blend harmoniously with the other buildings in the city. Picturesque shops selling crafts and antiques can be discovered throughout the city and these have become favorites of many tourists.
When the evening hours arrive the landscape is transformed into a magical wonderland. There are tall, old lamps that line the cobbled streets and they begin to twinkle and shine when the sun sets. At night guests can stroll through Colonia del Sacramento with these street lights shimmering overhead and it is easy to believe that you have suddenly been transported back to a much earlier time and date.
Colonia del Sacramento Uruguay was once known as the Banda Oriental. This was because the city was located in a "no man's land" lying between the Portuguese and Spanish empires. At this time there was a hazy border that defined each of these regions and the lines were especially unclear along the section of the river where Colonia del Sacramento was built.
The Portuguese were the ones who took the first initiative to remedy the situation. In January of 1680 the governor of Rio de Janeiro, Maestre de Campo Manuel Lobo, ordered the construction of a fortified city. This city was located at the present day site of Colonia del Sacramento Uruguay.
The close proximity of Buenos Aires, central enclave of the Spanish empire, would fashion a distinctly hazardous history for Colonia del Sacramento. The city would be founded twice, suffer various assaults, sieges and changes of dominion and have to battle for its existence until it finally became part of the official territory of an independent Uruguay.
The Historical Borough of Colonia del Sacramento Uruguay, which was declared "Cultural Heritage of Humanity" by UNESCO in 1995, is a privilege bestowed upon the iconic city. For many people of Uruguay and descendants of early settlers in this region it is also a way for them to relive and honor the past.
Some people come to the city for a day trip but others want to stay longer so that they can absorb more of the culture of Uruguay. Visitors to Colonia del Sacramento may even choose to spend the night at the Colonial Hostel which offers clean rooms and friendly service at a very low cost.
If you stay at this location you might also want to treat yourself to a refreshing snack, or meal, at El Drugstore. This is a place where you can enjoy a tasty mate, order sandwiches, sample a delicious cheese fondue or taste some of the other delicious food of Uruguay.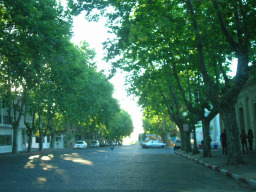 It is exciting to enter the city of Colonia del Sacramento through the Portón del Campo or Country Gate that was first built in 1745.
This gated drawbridge, the city walls and other city features have all been restored to their original condition, and today they serve as historical reminders of the city borders that were first created more than 300 years ago.
From the Porton del Campo you can take a walk along the old cobbled streets and explore the squares and nooks around the historic center of the city. This is an area where you will find many of the most interesting colonial buildings.
The Matriz Church, next to the Plaza de Armas, has survived both fires and reconstruction. Tourists find that there is a great deal to be admired about this particular structure, especially the intricate and detailed work of the altars; the beautiful handwork in the artistic carvings; and the well engineered, and incredibly stout walls.
Around the Main Square or Plaza Mayor, there are various museums to visit and explore. One of the most popular choices is the Portuguese Museum which is found inside a home that was built in 1720. There is also a Spanish Museum that is on the corner of España and San José Streets. This is a museum that is dedicated to displaying the history and artifacts that were important to the first half of the XVIII Century.
The House of Admiral Guillermo Brown
He was Briton who participated actively in the history of the River Plate, is a treasure trove that will be enjoyed by everyone. There are documents, coins, weapons and period furnishings to see.
You can also spend hours strolling through surroundings that include a rich collection of local flora and fauna. This home also has an exotic butterfly sanctuary and a paleontology room with fossils that are over one hundred thousand years old.
A Quick Note: No this isnt a picture of his house.
Anyways, if you continue toward the river, along the Misones de los Tapes Street, there is another building from the 18th Century that is considered a must for those who visit Colonia del Sacramento Here it is possible to view an amazing collection of authentic glazed tiles that can be dated back to the 19th century. The colors and craftsmanship are considered to be of the finest quality and are a true treasure that can be appreciated by all who view them.
If you found this city interesting, then grab your things and jump in the car with me because we are leaving Colonia del Sacramento Uruguay and going to visit other cities in Uruguay