Montevideo Uruguay
the Capital City
Montevideo Uruguay, is a bustling shoreline city that is home to about 42% of the nation's residents.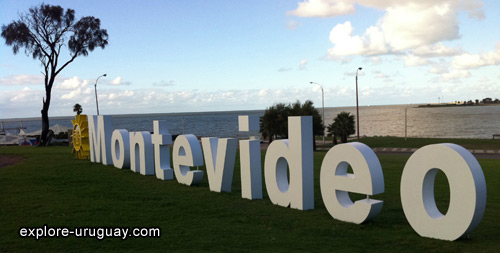 With a population of approximately 1.4 million, it is also the largest of all cities in this nation.
Approximately 1/3 of all tourist arrivals in Uruguay occur in the capital city of Montevideo.
This urban setting is a place where visitors can enjoy modern attractions and yet still feel connected to the city's deep historical roots that can be traced back through several centuries.
Since its beginning in 1726 as a Spanish settlement, Montevideo Uruguay has had to fight for its very existence. The township was engaged in constant strife with its close neighbors, Brazil and Argentina, finally gaining independence in 1828.
However, even after gaining their freedom, Montevideo contended with economic manipulation from Britain until well into the early 20th century.
Today, the city is a mixture of rich cultural diversity. Nearly half of its residents are European immigrants, largely from Spain and Italy. It's this diversity that gives the city a unique flavor to tourists, who delight at the numerous art centers and museums in downtown Montevideo.
There are shady parks, new pedestrian walkways, fashionable shops and cozy cafes that can be discovered throughout the city. You may just want to sit outside and sip on a delightful, frothy cappuccino while observing the hustle and bustle that keeps this busy city on the go.
Popular are the various "ferias" (Spanish for fairs) which are typically held once per week, and are scattered throughout the Barrios of Montevideo. There are food, clothing and artisan ferias at which to browse and shop - something to please everyone.
One of the top attractions in Montevideo Uruguay is the Mercada del Puerto where many visitors feel the best parilladas can be found. You can enjoy a glass of wine while sampling a dish made with spicy chorizos and roast chicken and then stroll about the marketplace searching for the best bargains. Another great stop in any tour of Montevideo is the Museo del Carnaval which is a museum dedicated to the history of Uruguay's famous carnival.
Just outside the city lies Battle Park, home of the Centenario Football Stadium, the site of first World Cup tournament in 1930, won by the local team of Uruguay. In addition, tourists should not miss possibly the best tour in the area - an excursion to the Old City, or Ciudad Vieja. Once there, visitors will see the Citadel Gate, which, up until the year 1829, was used to protect the region from possible invasions.
Boasting a 22 km coastline of pristine white beaches, known locally as La Ramblas, Montevideo Uruguay offers visitors many opportunities to sit back along the sandy shores and relax with a tall, cool drink after a long morning of shopping.
This region is an estuary of the scenic River Plate and is famous for its natural outdoor beauty. For the nature lovers, there are many parks, squares and nature trails to be explored whenever they visit the beaches.
Carrasco is perhaps the most important and most well known of all the residential areas in this capital city. The large, stately homes and the shady streets provide the perfect complement to the white sandy beaches. The charming balance of styles and colors prove to be a study in elegance and tranquility.
Guests also enjoy visiting the Casino Carrasco Hotel which is nearby. The classic lines and architectural details show a distinctive European flair and style which has helped make this resort extremely popular. Carrasco is also the home to the new and modern Montevideo Airport
The climate in Montevideo Uruguay is moderate, lacking severe extremes, which makes it an ideal setting for residents and tourists who long to spend time in warm, sunny surroundings. In Montevideo, Uruguay the average temperature is about 50 degrees F in winter and 78 degrees F in the summertime.
The nearly constant winds blowing in from the beaches keep the coastal region a few degrees cooler.
These comfortable temperatures mean that you can enjoy many pleasant evenings just strolling along the sidewalks of the city before taking in a show.
Fine dining is available at many elegant restaurants or you may prefer the casual and relaxed atmosphere of the many Bohemian style cafes that you will find in the city.
Travel in Montevideo, Uruguay is a lesson in efficiency and you will find that your waiting time is extremely brief.. Buses, taxis and chauffer-driven cars are available to quickly and courteously escort tourists and guests to almost any location within a matter of minutes.
Montevideo, Uruguay is truly a place worth seeing and exploring. The region is filled with modern conveniences and progressive architecture, yet the city manages to remain true to its history and culture.
Learn about the Department of Montevideo Uruguay