Visit Uruguay
About Us
Visits
Some of the most Interesting
Cities in Uruguay
Here are several of the cities in Uruguay that you have to visit as you explore Uruguay.
Mercedes you will have a unique opportunity to really live the adventure while they are enjoying a diverse and interesting getaway to a region that is still largely unspoiled by modern growth and development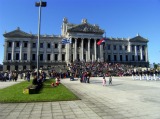 Small orange boats unloads plenty of fresh seafood as well as sharks which seem to astonish visitors.
Seafood restaurants and the walk to Cerro de la Viuda are main attractions.