Punta Ballena Uruguay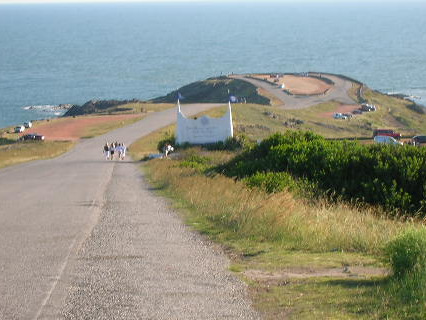 The scenic peninsula known as Punta Ballena is easily accessible from the Punta del Este Airport or the Montevideo Airport which are both National Airports. This coastal setting requires only a short 10 minute drive from the airport and is located less than 15 km from the busy tourist district in downtown Punta del Este Uruguay.
Many guests have discovered the beauty and scenic wonder of Punta Ballena and this seductive paradise is a top vacation destination throughout the year.
Perhaps it is Casa del pueblo that attracts most first time visitors to the area, but once you have time to explore the region you will want to return again and again.
This peninsula in Uruguay features outstanding views of the ocean and surrounding area. This resort area provides guests with the opportunity to experience a number of outdoor activities including swimming, sunbathing, boating and horseback rides along the sandy shoreline.
This beauty is the setting for Casapueblo which was the home of one of the most well loved and innovative Uruguayan artists. It was Carlos Paez Vilar who designed this unusual and fascinating sculptural residence. Vilar had decided that he would set out to create a place where he could live, work and entertain.
This unusual architectural structure has been said to resemble a bird with its wings outstretched. Indeed the graceful, sweeping lines bring such thoughts to mind, especially when you are able to view Casapueblo from a helicopter or airplane. It took many years for Carlos Paez Vilar to complete his dream and now his dream continues to be shared with the world.
Not only was his residence to meet these needs it would also be a structure that would be sculpted by hand and designed to meet Vilar's sense of aesthics and artistic inspiration. It is easy to see that his love of abstract art influenced the building's overall design.
This was to become an architectural accomplishment unlike any that had ever been created before.
When Carolos Paez Vilar first bought the land at Punta Ballena the peninsula was a desolate piece of real estate but that has changed and now it is one of the most desirable of all Uruguay properties.
Today the home of Carlos Paez Vilar is known as Casa del pueblo, a one of a kind masterpiece that displays a superb and unique combination of artistic lines, sweeping curves and unusual angles.
This is the areas iconic landmark and it is most assuredly the one that is the most widely known. From the vantage that this living sculpture provides you can see the sunrise over the horizon of the Atlantic Ocean and then watch the dazzling colors in the evening as the sun sets over the Silver River's horizon.
Punta Ballena is only a short drive from
many cities of Uruguay