Rocha Uruguay
Rocha Uruguay is not only a city in Uruguay, but also a Department or Province of this interesting South American Country which is located on the beautiful Atlantic Ocean.
This smaller city has a population of around 25,000 people.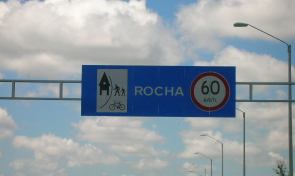 It was established back in 1793 and the first group of residents was comprised mostly of people who were fleeing the colonization that was happening on the Patagonia Coast.
Geographically, it is situated on the southeast portion of Uruguay and it is near Maldonado and Lavalleja and it is surrounded by the Atlantic Ocean.
Most of the people of Uruguay who live in Rocha make a living by fishing or farming. Farmers here produce mostly rice and herd sheep and cattle for meat and milk. Many other people make a living by promoting tourism for this city of Uruguay, which isn't hard, considering its natural beauty.
People traveling to Rocha will find many Uruguay activities to participate in. If they come during the Carnival season in February, they will be able to view festive parades and see interesting street theater.
During the country's day of independence in August, revelers will view beautiful fireworks. Any time of the year, people coming to Rocha Uruguay can eat well and the views of nature will invigorate any visitor.
Rocha's coastline is lined with numerous beautiful sandy Uruguay beaches. The Uruguay climate is temperate throughout the year, so people can enjoy walks on the beach, they can keep an eye out for colorful fish coming up close to the water's surface, and they can marvel at gorgeous sunset views.
Certainly, many tropical birds make their way through Rocha while migrating, and many others inhabit the area all year long, so spotting some of them would be a great way to spend time in Rocha as well.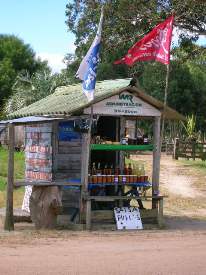 Some people may visit Rocha, Uruguay to go surfboarding. Others might find some sandy dunes near by and partake in sandboarding.
People who are interested in the local Uruguay economy might try to go out with a local fisherman and experience a day in his life.
At the end of a long day, those exploring Rocha Uruguay can settle back in a comfortable inn or in a lavish hotel and enjoy some delicous tropical fruit drinks and local Uruguay food delicacies.
Finally, business people who are looking for a new real estate venture will find unique opportunities if they explore Rocha, Uruguay.
Where else might one find an entire nature preserve for sale? What a great investment and one that would also help protect the environment. One of the lovely hotels might also come up for sale and purchasing one might be a smart endeavor.
travel to Uruguay, but your trip just won't be complete without a stop at Rocha.
Its time to leave Rocha Uruguay and
Go Explore the Beaches of Uruguay