15.06.2014 Bulletin
by Marita
(Montevideo, Uruguay)
Dear Folks


Can you say "fútbol"? It seems that, with the World Cup starting today in Brazil, it is the equivalent of "Father's Month" for most of the world, not "Father's Day". That event will be celebrated in the USA on Sunday, June 15th--giving fathers in the USA at least a day, because that country is about the only one that does not care a whole lot about fútbol.
So Father's Day or Fútbol Day or whatever, come
Sunday at 14:00 (2 pm), we will gather in Montevideo at La Papoñita
to discuss anything of interest. Sure, it's a restaurant, and you can eat all manner of different items, but if you don't want anything, that is fine, too. Just come and enjoy yourself.
Aside from fútbol, is anything else going on? Well, actually yes:
1.
Free use of bicycles in Ciudad Vieja
--A new system of bikes has been set up for use in Old Town from 7 am to 8 pm. There are 8 terminals and 100 bikes available. One is by Teatro Solis, one at the Mercado del Puerto, one an Plaza Zabala, one at the Republic bank, and 4 others. You need an STM card (otherwise used on the busses), and you can register at Alazaiber 1321.
The first half hour is free
--after that, the next half hour costs 11 pesos, the next 33 pesos, 2 to 3 hours cost 55 pesos, and up to 4 hours costs 74 pesos--which is the maximum allowed. It is allowed to bring the first to a terminal after half an hour, wait 5 minutes, and then get another....
Details:
http://www.elpais.com.uy/informacion/bicicletas-publicas-inaguran-ciudad-vieja.html
2.
Spanish resources
--People are always asking about helpful resources for learning Spanish, so a couple that have been mentioned recently are
www.lightspeedspanish.co.uk
www.duolingo.com
and a telenovela type Spanish course with 50 half-hour parts of the story with exercises is at
http://www.learner.org/series/destinos/index.html
3.
A restaurant find--Katy's Restaurant
, a Cuban restaurant on San Salvador 1644, esq. Minas, turned out to be a very pleasant place with a good atmosphere, and a menu that differs from those in most restaurants here in Montevideo.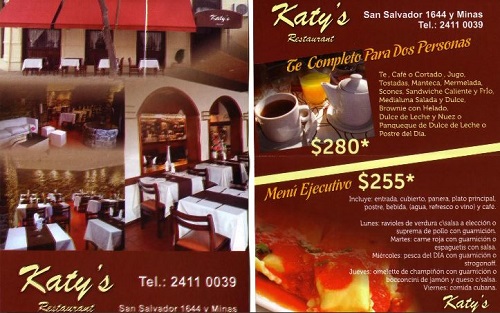 They offer meat, fish, pasta, salads, and salsas, as well as sinful desserts, and the portions are impressive, at prices that are reasonable for what they offer. The most expensive meat was 365 pesos. Thursday and Friday evenings, there is live music during the dinner hours. See the attached flyer for pictures of the place and more info.

4. German Company starting a Financial Services Center--BASF is opening a big center here to service all their business in central and south America. They will open their doors in November of this year, and add further departments until everything is up and running in 2016. The center will be located in the World Trade Center on Artigas, and will be headed by Berthold Ebner. BASF started the first such center in Berlin 7 years ago, and it has grown to have over 1,000 employees. A further such center is located in Asia. The center here is planned to have 320 employees. Uruguay was chosen because of its location, stability, and workforce. Those of you looking for employment may want to pursue this further.

5.
Music--There are a number of interesting performances
in the near future, as listed below.
 Event/Artist(s)

Program

Date & Time

Location

Cost

Temporada de Ballet 2014

Ballet Nacional del Sodre

El Mesías

Obra de danza contemporánea creada por Mauricio Wainrot y Inspirada en el Oratorio El Mesías de Häendel

Domingo 15 de junio. 17:00 hs

Martes 17 de junio. 20:00 hs

Miércoles 18 de junio. 20:00 hs

Jueves 19 de junio. 20:00 hs

Viernes 20 de junio. 20:00 hs

Sábado 21 de junio. 20:00 hs

Domingo 22 de junio. 17:00 hs

Sodre Adela Reta

$140 & up

Ser Platense - soprano Paula Almerares (Arg.) y tenor Rubén Martínez (Arg.),  acompañados en guitarra por Álvaro Córdoba, en flauta por Sonia Callejas y en piano por Carla Ferreira, y en honor del Prof. Dr. Theodor Billroth

Parte I:  W.A. Mozart (1756 - 1791) _ Sonata K.V. 331 en La Mayor

Transcripción para flauta y guitarra del Mtro. Antonio Pereira Arias

Andante grazioso

Variaciones I, II, III, IV, V (Adagio), VI (Allegro)

Menuetto - Trio - Alla Turca (Allegretto)

 

Parte II:  Abraham Jurafsky (1906 - 1993) _ Canciones argentinas

Copla

Vidala

Vidalita

Borges _ Poema de los dones

Arreglo: Andres Risso

Carlos Guastavino (1912 - 2000) _ La rosa y el sauce

Poesía de Francisco Silva

 

Parte III:  Johannes Brahms (1833 - 1897) _ Canciones populares alemanas Wo0 33

Da unten im Tale (En el fondo del valle)

Schwesterlein (Hermanita)

Es steht ein Lind (Un tilo se alza en aquel valle)

Camille Saint Saëns (1835 - 1921) _ Una Flauta invisible

Para canto, flauta y piano

Franz Liszt (1811 -1886) _ Die Loreley

Morgan_Zveignumg – Cecilie

DOMINGO 15 DE JUNIO, 18:30 HS

Teatro Solís SALA CONF. Y EVENTOS

FREE!  But space is limited.

Filarmónica dirigido por David del Pino Klinge (Perú), junto a los solistas en piano Eduardo Alfonso y Elida Gencarelli

J.S. Bach_Concierto para dos pianos BWV 1060

J.S. Bach_Concierto para dos pianos BWV 1061

J.S. Bach_Concierto para dos pianos BWV 1062

Johannes Brahms_Sinfonía Nº1 en do menor, Op. 68

MARTES 17 DE JUNIO, 19:30 HS

Teatro Solís SALA PRINCIPAL

$170

Imperdible: la Orquesta Juvenil del SODRE junto a Hugo Fattoruso, festejando los 250 años del natalicio de Artigas

En la primera parte del concierto se interpretarán composiciones y arreglos de Fattoruso para la Orquesta Juvenil del SODRE, con su actuación como solista en diversos instrumentos

Para la segunda parte, la orquesta interpretará la famosa Sinfonía No. 5 en mi menor Op 64 de P.I. Tchaikovsky (1840 - 1893), considerada como una de las sinfonías más queridas por el público a nivel mundial.

JUEVES 19 DE JUNIO, 20:00 HS

Teatro Solís SALA PRINCIPAL

$150

Filarmónica bajo la dirección de David del Pino Klinge, junto a Aldo Cicchini en violín

Félix Mendelssohn_ Las Hébridas

Félix Mendelssohn_ Concierto para violín en Mi menor Op. 64

Johannes Brahms_ Sinfonía Nº2 en Re Mayor Op.73

LUNES 23 DE JUNIO, 19:30 HS

Teatro Solís SALA PRINCIPAL

$150

Jerusalem Festival Chamber Ensemble, bajo la dirección de Elena Bashkirova, junto al Erlenbusch Quartet con Michael Barenboim, violín; Axel Wilczok, violín;     Madeleine Carruzzo, viola; Tim Park, violoncello

Wolfgang A. Mozart - Cuarteto para piano y cuerdas N° 1 en sol menor, K. 478

Alfred Schnittke - Quinteto para piano y cuerdas

Anton Webern - Cuarteto para cuerdas op. 28

Robert Schumann - Quinteto para piano y cuerdas en mi bemol, op. 44

MIÉRCOLES 25 DE JUNIO, 19:30 HS

Teatro Solís SALA PRINCIPAL

$690 & up

Jazz Tour 2014, presenta a Robben Ford, uno de los mejores guitarristas del mundo

Robben Ford : Guitarra / voz

Brian Alle : Bjo

Wes Little : Batería

Artista invitado para abrir la noche: el uruguayo Juan Pablo Chapital.

MIÉRCOLES 23 DE JULIO, 20:30 HS

Teatro Solís SALA PRINCIPAL

$1000 & up