17.11.2013 Bulletin
by Marita
(Montevideo Uruguay)
Consider:
News Flash from the Stock Market:
"Hale Business Systems, Mary Kay Cosmetics, Fuller Brush, and W. R. Grace Co. will merge and become: Hale, Mary, Fuller, Grace." -- Dennis Miller.

Dear Folks,

It's so good to see the snowbirds again, and we are doing our best to make them feel so welcome that they won't leave again.... :-) La Papoñita is up to the challenge, and Sr. Torres has become used to our ways, so everyone feels welcome on Sundays at 14:00 (2 pm).

Items to report include: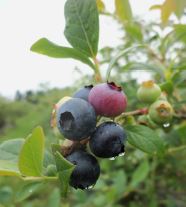 1. Blueberries--there are a couple of opportunities to get more blueberries, since it is now the height of the season.

Blueberries and More--you can pick them yourself or order them, and they will be delivered. I contact you in order to ask if you could spread the news - for both sides benefit, the farm and also the interested clients who will get a prime quality product- of the blueberry season opening. It a short season, just few weeks, so we are doing our best to reach all possible interested people. Ours is a small organic farm that base its business only in local market. See the attached Announcement.

2. Immigration is a hot topic, and the Uruguay Phyle is offering a special session with representatives from Fischer and Schickendantz on November 30th. RSVP required, first come, first served.

FREE ONE-ON-ONE RESIDENCY AND CITIZENSHIP CONSULTATIONS are being offered through the Uruguay Phyle on Saturday, 30 November, in Punta Del Este. If you are already working with a service provider on Residency or Citizenship, this free 15-minute consultation is simply an opportunity for you to get a "second opinion" on the steps to take to get your residency or citizenship. For more details or to RSVP for a consultation e-mail: uruguayphyle@hotmail.com.

3. Used water heater available:
Used - in good condition - 30 ltr.


Will trade for two bottles of Johnny Walker Red or two bottles of Breeder's Choice Whiskey..
4. Food Question: Maple Syrup is available sometimes at Tienda Inglesa in MVD shpg. but probably not organic.It is located on the shelf above the frozen dessert section...where they have ice cream toppings etc. Good luck

A Canadian who is contemplating moving to Uruguay is seeking contact with a Canadian who has moved to Uruguay, the hopes of finding out about things like taxes and availability of pension benefits. Does any Canadian want to take on a pen-pal? Let me know.

Which concludes the round-up for the week. Come by La Papoñita on Sunday at 14:00 (2 pm) to discuss these and any other topics that interest you.