24.11.2013 Bulletin
by Marita
(Montevideo Uruguay)
Consider:
"Paradox is a consequence of domain bloat. Descartes famously said, "Cogito ergo sum". Ambrose Bierce less famously but more insightfully said, "Cogito cogito, ergo cogito sum. Cogito"." -- Fred Reed.

Dear Folks,

For those of you from or familiar with the USA, Thursday will be special, regardless of where you are.


HAPPY THANKSGIVING !!!
Click on the turkey
!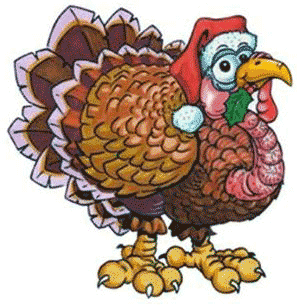 Since you should be recovered from any festivities by Sunday, so come by La Papoñita at 14:00 (2 pm), and join in the discussions with lots of people on lots of topics--of course, topics of your choice.

But with a view to local events:

1. Once again, Blueberries: Further communication with Las Garzas reveals that they only deliver as far as Carrasco. Answering an enquiry about, perhaps, 5 kilos deliverd to La Papoñita so that we could make a group order, the response was that they do not publish prices (but he gave a fairly low estimate if we wanted 5 kilos), and continued:

with a shipment (shipping costs) of around $100 pesos, depending on how much time the driver spends to deliver it.

unfortunately we stopped to deliver to places other than Carrasco, because we cannot grant the quality of the berries if they get caught by heat in the truck - its a regular delivering service that we hire here.

the first place the truck arrives is Carrasco at mid morning and this is enough to assure that the berries will arrive OK.

If you can arrange a place in Carrasco to deliver and get the payment will be great, we deliver from Monday to Friday.

Ours is a very small farm specialized in a small market niche, quality and chemicals free fruit are granted. All the help you can give us by spreading the news among friends, contacts and other will be greatly appreciated.

Enjoy your day

Alex (the blueberry guy)

So, if there is someone in Carrasco who would be willing to take a group order for all those interested, and bring it to La Papoñita on Sunday (or make some other arrangement for distribution to those in Montevideo who want some), let me know. Of course, anyone interested in having some should please let me know, too, so the operation can be coordinated.

2. Importing items to Uruguay after your one container has arrived, and after receiving permanent residency: It is painful for the pocketbook, thanks to Customs. First, they will estimate the value, although it is unclear to what extent receipts for the item enter into their calculations. You pay 60% of that estimated value. And then they add 100% of the transport costs to get the item to Uruguay....

Also, items ordered from other countries are allowed in duty free if the value is under US $ 200 (raised from US $ 50 about a year ago). However, as in the case above, the cost of transportation is included in the US $ 200, so you cannot buy something for US $ 199.00, have it mailed to you, and expect to received it in Uruguay duty free. The total value of the item PLUS the shipping must be under US $ 200.

3. Books you can borrow: The German Evangelical Church has a huge library, including a great many titles in English--everything from Winnie the Pooh to historical biographies and murder mysteries. Since the church is in Uruguay, and not Germany, the lending procedures are simple--borrow what you want, return it when you want, or bring in something else for the library. This is the same church that has hosted a number of concerts on Sunday evenings, and notices will be included here on occasion, or you can write the pastor and ask to be put on the mailing list, so you receive notices of upcoming events.
Congregación Evangélica Alemana de Montevideo
J. M. Blanes 1116 esq. Durazno
Teléfono: +598 2418 3066
@: ierpmontevideo@yahoo.com
4. Rental opportunities:

a) Furnished Apartment for rent in Pocitos December 3 through February 25. Roomy 1BR, top (6th) floor, partial Rio view, on Juan Benito Blanco esq. Perreira, 1 short block fr. Rambla, near bus stops, restaurants, etc. Washer and Fiber Optic Internet with WiFi. $850/mo plus gastos comunes. Tenant responsible for UTE (electricity) and taxes (per UY norm). Short term rental rate also available.

b) Also still available: A flat-sharing opportunity: My grandson Agustin (who speaks English) is staying at my apartment and as my room is empty I thought maybe you would know somebody from the group who would like to share until I return. The apartment is located in Punta Carretas a few blocks away from 21 de Setiembre, Ellauri and Bvd. Artigas, close to Punta Carretas Shopping and only 8 blocks from the beach. A very nice area full of restaurants.

Any answers will be passed on to the owners.


5. A Topic for Discussion, hopefully with Uruguayos: One participant wrote:
I'm also annoyed by an attitude that I've seen from these people and
other locals. They explain something to me in Spanish. I understand
them, but think they're wrong or don't agree. I tell them this. They
think I don't understand and tell me again. I tell them I understand
and think they're wrong. They think I don't understand and tell me
again.... round and round. Clearly, if I understood, I would agree
with them, right? I've seen this on rare occasions in the US. But
I've noticed it more here.

Has anyone else had similar experiences? To what do you attribute this? A variety of possible causes (such as lack of interaction with learners of the language) have been contemplated, but no conclusion has yet been reached. What do you think?