10.11.2013 Bulletin
by Marita
(Montevideo Uruguay)
Consider:

"If power companies invested in infrastructure the way DHS and Congress fight terrorism, a New Yorker wouldn't be able to run a hair dryer, but everyone in Bozeman, Mont., could light up a stadium." -- Veronique de Rugy complained.

Dear Folks,

The snowbirds are coming back now, and it was so good to see the first arrivals. We missed you, snowbirds, and welcome you back!! Everyone can come by La Papoñita (corner of 18 de Julio and Minas) on Sunday at 14:00 (2 pm) and welcome them in person.

And what else is new? Well,

1. Furnished Apartment for rent in Pocitos December 3 through February 25. Roomy 1BR, top (6th) floor, partial Rio view, on Juan Benito Blanco esq. Perreira, 1 short block fr. Rambla, near bus stops, restaurants, etc. Washer and Fiber Optic Internet with WiFi. $850/mo plus gastos comunes. Tenant responsible for UTE (electricity) and taxes (per UY norm). Short term rental rate also available.

2. Flat sharing opportunities--This idea seems to be catching on, so here are some more opportunities:
a) I (a lady) am looking for a dependable, non smoking female roommate in her 20/30/40s:
I have a furnished single room for rent in my very nice, luminous apartment by Bulevar España, Parque Rodó area, 15 minutes walk to centro, 5 min walk to the park. Available as of December 19th. Rent is preferably short term (2 to 5 months approx., but negotiable).

b) My grandson Agustin (who speaks English) is staying at my apartment and as my room is empty I thought maybe you would know somebody from the group who would like to share until I return. The apartment is located in Punta Carretas a few blocks away from 21 de Setiembre, Ellauri and Bvd. Artigas, close to Punta Carretas Shopping and only 8 blocks from the beach. A very nice area full of restaurants.

Any answers will be passed on to the owners.

3. Animals--OK, so no one has yet jumped at the opportunity to buy the cow on offer (and still on offer). So how about puppies, really cute puppies????

2 adorable 8 week old pure bred yellow lab puppies for sale for 1500 pesos each. They are both male and very healthy and have good personalities. One is almost white and the other is a darker yellow. We'd be happy to deliver as far as Atlantida or Montevideo.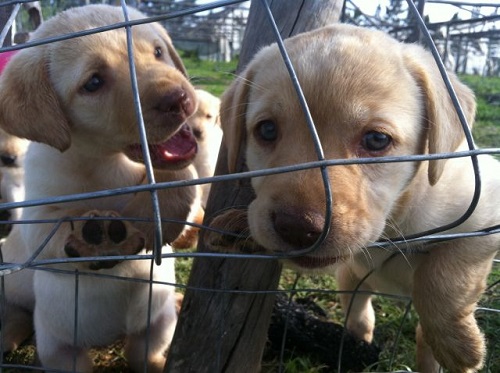 4. The water in Uruguay--the question brought several responses from people in the know (and many thanks for these):
a) From my reading on this, Uruguay puts fluoride in table salt. By law, 60% of the salt sold here for human consumption must contain fluoride. There is no mention of it in water. As an aside, dental surgeries in Canada on young children have increased by 60% due to severe decay partly attributed to the use of bottled water there which does not contain fluoride.

b) answer about drinkable water: yes, indeed OSE water used to be rated as very good drinkable water. Recently there have been some claims about its quality but have not heard anything more about that. To be sincere, I don't trust PA as day after day we happen to learn about serious irregularities. Therefore I shall say that OSE water is OK to brush teeth, toilette, washing up, and boil rice, pasta, potatoes, etc. However, to prepare tea or coffee, and for cooking purposes (it's a question of flavour) I'd rather use gas-free mineral water.
c) A local sent in this link to an El Pais article:

http://www.google.com.uy/url?q=http://www.elpais.com.uy/130317/pnacio-703179/nacional/ursea-episodio-de-algas-en-el-agua-se-repetira-en-todo-el-pais/

5. Food question: Does anyone know where to find maple syrup (organic) in Uruguay?

Which concludes the round-up for the week. Come by La Papoñita on Sunday at 14:00 (2 pm) to discuss these and any other topics that interest you.