30.03.2014 Bulletin
by Marita
(Montevideo, Uruguay)
Consider:



"A lie can travel halfway around the world while the truth is still putting on its shoes." -- Mark Twain.

Heading over to La Papoñita every Sunday is always exciting, because there are so many new people to meet--some are moving here, some are looking around with an eye towards moving here, while the usual suspects have already made the move, and are happy to offer all manner of advice and support.

Sr. Torres does his very best to keep us all happy, but sometimes, mistakes are made So be forgiving, and be glad you are not trying to do what he does so ably.

So if you are in or near Montevideo, or can be, come on over to La Papoñita on Sunday at 14:00 (2 pm) and talk to as many people as you can before the afternoon is over. You will be most welcome.

Items that may be worthy of note this week include:

1. Job seekers: Is this something for you? One of our number was kind enough to let us know that there is a job to be had: He writes:

We have a job opening for a helpdesk operator in Zona America and Downtown. English knowledge is required. Generally speaking in the Information Technology world, a helpdesk operator is a person who receives calls/emails from customers and tries to solve their problems. For example, if you purchased a new Antivirus software from Microsoft and you ran into a problem while trying to install it in your computer, you would call up the Microsoft helpdesk to get this sorted. The person who answers your call is the helpdesk operator. This is a very generic example I gave you. But something similar would be expected.

If you know someone who may be interested, please have them send their CV to marianoelia.garciapagano(at)tcs.com

You may use my reference. My details are:
Name: Saikat Chatterjee
Emp ID: 161621
He has asked to be informed if any of you apply, so please let me know so I can pass that on.

2. One of our number has a really devastating problem, and has asked for help. She wrote:

John Rohrer, a 33 year old Ohio man who composes music and writes books he self-publishes about psychology. He has been illegally involuntarily hospitalized for 4 years and force-drugged for 3, with drugs so dangerous that their manufacturers have been ordered to pay civil and criminal penalties in the billions of dollars just for marketing them fraudulently. But the psychiatrists who prescribe the same drugs often get a pass – by their medical boards and by the courts. John and his family request that concerned citizens join in his protest against his illegal confinement, forced drugging, and the refusal of his hospital to allow him to be examined by his own doctor. The United Nations, through its treaties prohibiting torture and discrimination against the disabled, recognizes forced "treatment" of any kind to be a human rights violation. As a United States citizen never accused of terrorism, John believes he is at least as entitled as are the Guantanamo prisoners, to be free from torture. His attorney has therefore petitioned the Ohio Supreme Court for his unconditional release from Appalachian Behavioral Healthcare (ABH)– the hospital in Athens, Ohio that continues to violate John's rights. It has recently been discovered that no evidence has
ever been admitted in any court of law that would have authorized John's confinement four years ago, or ever since. None. Important issues of Ohio law, federal law, constitutional law, and international law are being raised by John's attorney in John's Supreme Court case currently pending:
http://www.supremecourt.ohio.gov/Clerk/ecms/resultsbycasenumber.asp
In 2009, while being variously prescribed 9 violence-inducing drugs and placed in a violent state-run facility, John struck a person who had previously attacked him. He was never convicted of, and does not now stand accused of, any crime. Since then, John has managed to discontinue taking most of the violence-inducing drugs he was prescribed in 2009, but the hospital psychiatrist, Dr. Maida Sierra, who John has legally dismissed as his doctor, continues to prescribe and force him to accept other dangerous drugs, including one which she prescribes off-label (not for any FDA approved purpose). The hospital sprays chemicals several times daily, which also contributes to the decline in John's health observed by an outside doctor based on ABH's own blood tests.
When John and his mother filed formal grievances against abuses by the hospital in 2013, including failure to protect him from violence, hospital hierarchy dismissed such grievances and retaliated against John. A petition John circulated on his unit in July, 2013, protesting a nurse identified as consistently abusive, was signed by more than half the unit's patients, but ABH imposed severe sanctions against John soon after, including the forcing of a new drug without any medically required liver function test beforehand. He is still on this drug against his will.
John is asking that people protest his psychiatric imprisonment and forced drugging to the following:
Jane Krason
jane.krason@mha.ohio.gov
CEO of Appalachian Behavioral Healthcare
100 Hospital Drive, Athens, Ohio 45701
Phone: 740-594-5000
FAX: 740-594-3006
In addition, you can protest to the following:
Geoff Collver or Executive Director Michael Kirkman
Disability Rights Ohio
50 W. Broad Street, Suite 1400
Phone: (614)466-7264 Ext. 102,
gcollver@disabilityrightsohio.org
mkirkman@disabilityrightsohio.org
(this agency has taken a public stand against forced drugging but does not help in John's case)
State Representative Gary Scherer (R)
Ohio District 92 – (representative from John's original county of
residence, Ross County)
(614)644-7928
(has expressed concerns about financial fraud committed against the government)
People who want to help, might ask why ABH continues to refuse to transport John to his own medical doctor when ABH routinely transports him to "their" doctors outside the hospital. ABH has claimed that their accrediting agency prohibits patients from seeing the patient's own doctors outside the hospital, but the accrediting agency has recently stated in writing that this "explanation" is false. Documentation available on request.
4.
House for sale in Punta Negra
, 8 km from Piriapolis and 30 km from Punta del Este, in a very quiet area by Vera and Wolfgang. (Haven't been to see us yet, but promised to come soon.)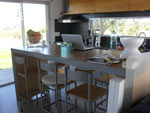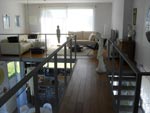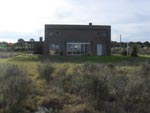 It is a modern, cubic house, about 200 meters from the sea. 120 M2 living space, with a large gallery, open American style living room-kitchen arrangement.

2 bedrooms, 2 baths. Enclosed fireplace heating system in the whole house.
600 M2 land with a garden.
Additional area with outlets for washer and dryer, a large parrillo, wooden deck.
Car port.
About 500 meters to the shopping area, and close to the bus stops to Piriapolis and PdE.

Pictures are attached, and more are available. Asking price: U$S 250,000. Call Vera and Wolfgang at 097 348 772 to find out more.