27.04.2014 Bulletin
by Marita
(Montevideo, Uruguay)
Consider:



"With respect to the news these days:
The 1859 Pig War (certainly my all-time favorite war, inasmuch as no shots were fired, except the one that killed the pig)." -- Robert Higgs.

Dear Folks

Now Easter has come and gone, the snow birds, well, most of them, have come and gone, so now it is time to settle in for the winter. But what kind of winter will it be? Cold and wet, or just cooler and, for the most part, with daytime sun?

We shall find out in due course, but however it turns out, we will get together in Montevideo every Sunday at 14:00 (2 pm) at La Papoñita, and encourage everyone to come and join us. No reservations necessary, no membership fees. Just a good bunch of people looking forward to discussing everything of interest.

Worth highlighting this week are a couple of points:

1. A New Activity: Line Dancing--One of our number has a super suggestion for what to do, now that it is winter.

There's another issue I would like you to ask to the American community: I am a fan of line dance and I know some basic country-music steps. Is there anyone else wanting to brush dancing shoes as me??????

So what about it? Anyone interested is getting something like this off the ground? Let me know.

2. Furniture for sale--Last week, some furniture was on offer, but now the descriptions and pictures are available. The items are not in Montevideo, but up the coast.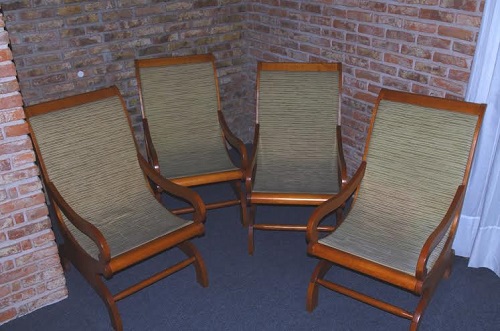 a) 4 wooden chairs: 61 cm wide, 70 cm deep, and 107 cm high. The height of the seat is 46 cm. All 4 chairs together cost U$S 30.00
b) The sofa: It is 2,55 M wide, 1,20 M deep and ,85 M high. The height of the seat is ,46 M. The asking
price for the sofa is U$S 150.
Let me know if you are interested, and I will put you in contact with the seller.
3.
IVA Refund
--The ever popular topic. This time, with a new question:
We have read that it is possible to get a refund on non-restaurant, non-hotel, and non-car rental purchases when an ex-pat leaves Uruguay. An article I read said this can be done at Carrasco International Airport. Do you know anything about how one goes about doing it? We would appreciate any information you can give us.
This is customary in EU countries--you arrive at the airport prior to departure somewhat earlier, go to Customs, show them the items you purchased and are taking out of the country, show them the receipts, and get (a large percentage of) the IVA refunded. But is this also possible when leaving Uruguay?
4.
Today's Chuckle
--You can't beat this for forward-looking innovation. Coming soon to a farm near you, unless you implement it yourself.... :-)
Freedom from UTE! At least, if you have a cow(s)...
http://en.mercopress.com/2014/04/21/argentine-experiment-to-catch-livestock-s-flatulence-and-convert-it-into-energy
(Remember to check out the Merco Press for news from Uruguay and the region in English.)
5
.
Mea Culpa
--Because I believe it is important to protect your information, I always send the Bulletins using BCC. Except I goofed last week for some, and I am sorry about that. However, since I always send them as BCC, there is no benefit from writing to me and telling me why it is important to send it as a BCC. Still, since I will continue to be a human being, I am error prone, so further errors of different kinds can be expected.
Thus, two options come to mind:
a)
Use a different mailbox for the Bulletins, and send me that address for the mailings.
b)
Let me know that you prefer not to have your address on the mailing list.