16.06.2013 Bulletin
by Marita
(Montevideo Uruguay)
Consider:



"It is what we think we know already that often prevents us from learning." ---- Claude Bernard 1813-1878, French Physiologist
Dear Folks,
Winter is here, and the forecast for July suggests that you might want to contemplate hibernation..... Though of course you will have to interrupt it this Sunday, June 23rd, and every Sunday at 14:00 (2 pm) and come over to La Papoñita to find out what has been going on while you were not paying attention..... :-)
Further items of possible interest include:
1
. Don't forget the
Bread-Making Lab on Sunday, June 23rd
, scheduled to begin at 11:00 am. Contact Ann-Christine at durandetto (at) aol.com if you want to join the merry bunch. One such adventure has already taken place, and is reported to have been a big success.
2
. And the reminder of the
furniture sale ending on Sunday, June 30th
. In last week's Bulletin, clicking on the web site link landed you at the info about the yoga classes, so here is another try to get you to the correct page with the descriptions, measurements, and pictures of the items on offer.
http://www.explore-uruguay.com/uruguay-info-exchange.html
3
. And now there is a
further sale of household items
, in case you are interested. Due to downsizing living quarters, a variety of pieces are for sale. You can find a list of the items with prices and pictures at:
www.pocitosfurnituresale.weebly.com
Sorry, no measurements and no further information is available at this point.
4
.
Wine lovers
: There are several wine experts in our midst, and they have been kind enough to keep the rest of us up to date:
a
. I just thought maybe some would like to know about the
annual wine tasting festival
going on all this month, June, at Geant....and it's free!
You can actually taste a big assortment of UY, Argentine, and Chilean wines, and they are offering discounts as
well. Its set up like a typical trade show, with various wine purveyors displaying and pouring samples of their varietals. If you speak Spanish you can learn a lot about the wineries, and their wines too...Geant express buses and the 104 go directly to the store.
b
. And the promised
info about Chilean wines
:
Chile RESERVADO Carmenere
– CONCHA Y TORO (normally $139-ish - we buy aggressively on sale in Devoto, $109 – buy 6 bottles on their Tues. 'Hipercard' day – gives about 15% off)
Callia Shiraz-Malbec
– also very good, priced similar to the above I think.
Nieto Senetiner Malbec
– a little more than the above - $155 - $175 but really delicious.
c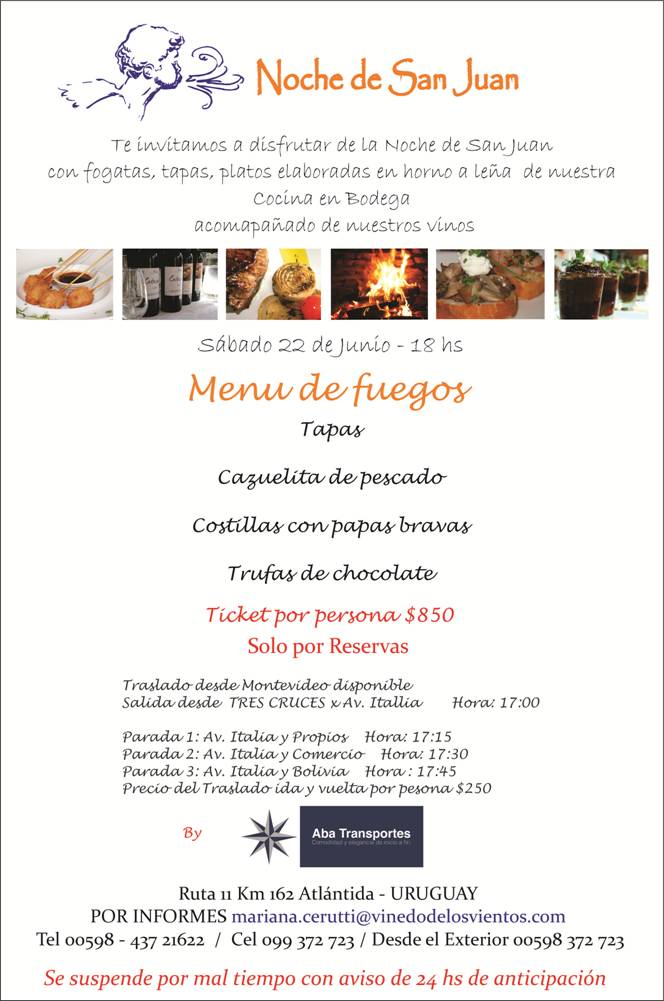 5. And a flat for rent--Sorry, no further info is available:

We want to rent our apartment for the months of December and January this year.

As you know, it has at least 2 full bedrooms with baths, and a very large patio which is great for asados etc., and just to relax in the summer.

Also, it has a great location in front of the park in Villa Biarritz.

Of course we may list it on web sites, but before that I thought I would offer it to friends. It is always better if you know the renters personally.

The rent would probably be about 1500 per month inclusive of everything. Perhaps less.

6. And a flat being sought: Long term rental of a 3-4 bedroom place, clean, in a quiet, nice neighborhood. Search area: between Montevideo and Punta del Este.

7. Requests for information:

a. Does anyone know where to get coconut oil?

b. Does anyone know anything about acupuncture helping against radiation-induced dry mouth--can it increase saliva production? Or does anyone have any other suggestions of ways to relieve dry mouth (beyond sucking on a stone)?

That's more than enough for this week--the rest has to wait for next week or these bulletins will get so long that no one will read them.

Cheers, Marita