Constitution of Uruguay
by Evelyn
(Montevideo Uruguay)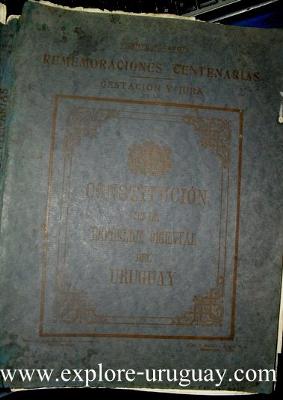 Constitution of Uruguay
1 The original constitution was signed on 10 September 1829, written on sheets of size 39x 47, bound with blue plush covers with gold lettering, the text was written by Agustin Iturriagra.


2 juarda constitution in 1830 made ​​up 159 articles, and the signature of all members of the Constituent Assembly of 1829. This assembly of representatives in 1825 worked in a historic house, this house was demolished in 1918.
3) Francisco Acuña de Figueroa, creator of our national anthem, in this book we see several of his creations that were in history, such as
"Cielito Orient", the fragment is:
"Honey, sweetie East,
Cielito of Arrebol,
Anarchy is the eclipse
And our country is the Sun "
4) topographic map of the city of Montevideo, after the demolition of walls and application site. (Illustrative Plans 1829)
Explore Uruguay > Government > Facts > History > Flag > Independence