Interesting Facts about Uruguay
Here are some Interesting Facts about Uruguay
One of the first things that struck me as Interesting about Uruguay has to do with their street names and house names.
Stay with me now, and let me explain. Houses arent marked with numbers like you would commonly see in North America or even other South American Countries.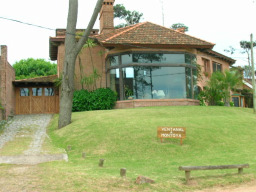 The houses have names like this one in the picture.
There seems to be a collection of street names that they use in every city in Uruguay.
Which starts to get confusing when your traveling and the cities seem to be running together.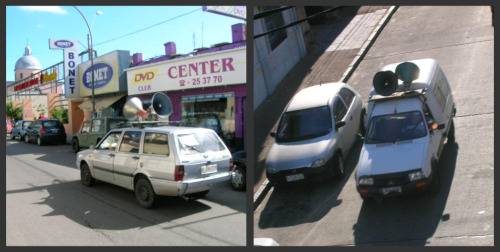 Another fact about Uruguay that I found interesting is one of their forms of advertising. In North America its common for a business to advertise on the radio. The business people of Uruguay take this idea in a new direction.
What they do is hire someone with a vehicle that has huge speakers and as you can see from the picture, Im not exaggerating when I say Huge Speakers. The drivers make a living by getting the advertising word out.
Just imagine your surprise on your first morning in Maldonado Uruguay, when you are awakened to what sounds like the police on a bullhorn right outside your bedroom window. You carefully approach your hotel window and glance outside and there you see Speakers that look bigger than the cars they are driving by on.
I thought that was an interesting piece of Uruguay culture to say the least. The last couple facts about Uruguay pale in comparision to this next one. Im a dog lover by nature. I have owned numerous and currently have a beautiful Purebred Dogo Argentino which is being trained to do personal protection work!
Like I said, Im a dog lover. Ok so here it is. When I was staying in Maldonado Uruguay which is just a few minutes north of Punta del Este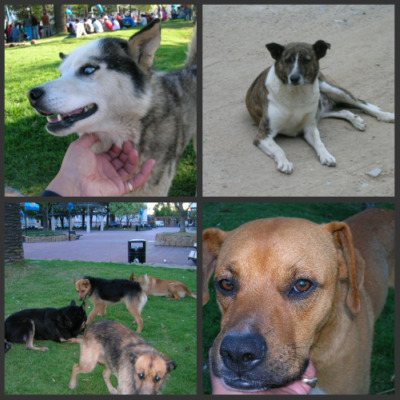 I was surprised to see so many stray dogs running around. They were in the city square, running down the road and sidewalks, and generally seemed to be all over the place.
Being what I believe to be a responsible dog owner. I wondered how could this many dogs be without their owners. It's not as if they were scruffy or unkept looking.
Surely, these dogs have owners, or so I thought.
As I was pondering this thought in the beautiful San Fernando de Maldonado's Cathedral several native people of Uruguay came over and down beside me.
We struck a conversation and I asked about the dogs and can you believe it... this is what they told me.
Every year tourist from all over the world come to vacation in Punta del Este.
Some of those tourists buy or bring a puppy or dog and then, when they go back home, they leave the dogs behind. I couldnt believe it!
If these are all strays, then why do they look so healthy I asked. To this question, I got a few chuckles and then the explanation. These Uruguayans told me that it is against the law to harm the dogs. As a matter of fact, some of the best dogs are rounded up and shipped away to be trained as hunting dogs and then sold. The rest run around and are fed by the people who see them.
I'm serious, this is what they told me!
How do you like these interesting facts about Uruguay so far? If you liked these facts then you're in luck because I have more Uruguay facts to share with you.
Just Click here to read More Interesting Facts about Uruguay