More Interesting
Facts about Uruguay
You can find facts about Uruguay all over the Internet. What you don't commonly read about are what I consider to be interesting facts about Uruguay
Having come from North America to South America, I definately noticed some unique differences... I'd have to be blind not too!
On this page you're going to read some facts that you won't readily find on the internet and Im hoping you will find interesting. Ready? Ok, here we go.
In order to get around rented a car to explore Uruguay
One of the things that people seem to like the least about driving a car is parallel parking. I've seen many a bumper nudged or dented by a drivers inability to see how close they are getting to the bumpers of cars they are parking between.
Uruguay has a simple and very practical solution to this problem. In Uruguay people are paid to help you parallel park.
Thats right! People of Uruguay are paid to help you park your car. Amazing. Again a simple and pratical solution.
When I first arrived in Maldonado Uruguay I decided to park in the square, and all of a sudden this man runs out from nowhere and gets behind my car and starts guiding me in.
I was shocked, I thought he was a construction worker or something but gladly let him guide me in. Once parked, I got out and starting talking to him and it turns out this was his job.
City parking attendant
I was impressed, this was the first time in my life I had ever seen this. I asked if I could take his picture and he happily posed for the picture. He was genuinely proud of his job! I showed him the picture I took on my digital camera, which he seemed really impressed with. I felt a little bad though, because he really wanted a copy of the picture, but didnt have an email adress for me to forward it to him.
Here's another fact about Uruguay. There are hotdog stands on every corner.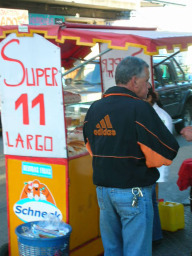 I mean that literally. Never in my life have I seen such a concentration of If I didnt know better I would have guessed that
Hotdogs are the
National Food of Uruguay
Down, every road you turn, it seems that there several vendors offering to serve up one of their delicious creations
Now these arent your average run of the mill hotdogs. No sir! These hotdogs are Huge
This might sound crazy but I was so impressed with the size of the meals in Uruguay that I actually built a webpage with descriptions and pictures of Uruguay food.
If theres one thing that every meal I had in Uruguay had in common, it would be that the portion sizes are enormous. I never felt like I didnt get enough.
As you can see Uruguay has some unique facts. Here is my Original link for interesting facts about Uruguay.
If you havent already seen it, you should definately check it out. You will also find that you can add your very own facts about Uruguay on that page.
Just submit them and include a picture or short story or bit of information.
If you are the type of person who wants to read Statistics about Uruguay South America you can Click here to read Statistical Facts. Or maybe you would rather Grab a cup of coffee and Come Explore Uruguay with me!
Have A Great Story About This Topic?
If you have some Interesting Facts about Uruguay that you would like to share with others, I would love to hear from you!

Include some info on how you found out about the fact and why you found it to be interesting
What Other Visitors Have Said
Click below to see contributions from other visitors to this page...

People Don't Knock ,They Clap

When I arrived in Uruguay I needed someone to help me take the photos off my camera, put them on a pin drive, so I could view them on my computer. I don't …