Keeping Montevideo Clean
by Carolita
(Montevideo Uruguay)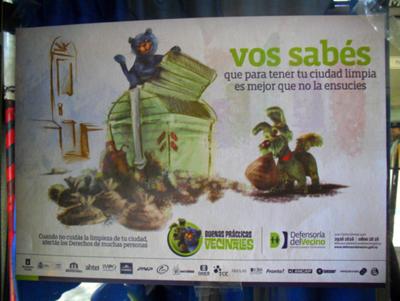 Advertisment in Montevideo promoting a clean and healthy city
Working together to keep Montevideo Clean.
These pictures depict an initiative in the capital city of Uruguay responsible for informing and educating citizens of Montevideo on the good care, and the new management plan for a clean municipal city.
These containers are located throughout Montevideo and allow families and
tourists
a place where they can deposit their daily waste.
These commonly found dumpsters are collected by a special trucks which in turn clean and disinfect the containers.
In 2011 we launched a campaign which includes containers that are orange in color. The purpose of these containers is the collection of dry waste, with the aim of better classification increasing family waste recycling plan.
The first picture
depicts a marketing campaign found throughout Montevideo, and when translated the headlines announce:
"You know that to have your city clean is better than dirty"
and
"when you do not take care of cleaning up your city, you are affecting the rights of many people"
The second picture
depicts gray recycling containers that are located throughout the city which are used for the collection and recycling of plastic and glass bottles and are placed on some of the corners of the streets of Montevideo.
The third picture
shows small green trash bins which have been in operation since 2009. They are responsible for keeping our city clean.
We welcome you to our beautiful capital City, and please remember...
A Clean Montevideo = Healthy City