Uruguay Wines are Exceptional
Uruguay wines have become very popular in a relatively short period of time. Today many of this nation's wineries are producing some of the best wines in the world.
A large number of wines from Uruguay are among the choice selections that are recognized for being award winning varieties. Many of the premier wines from Uruguay can hold their own even when compared to the leading wines produced by France.
Tourists who visit Uruguay are even able to sample a number of wines that are only sold on the South American wine market. In addition there is an opportunity to tour the vineyards and wineries that produce the top selling Uruguay wines.
The climate and natural terrain make many areas of Uruguay ideal for growing the choice grapes that are needed to produce fine Uruguay wines. Temperate weather, cool nights and moisture laden, ocean breezes provide the country with the key elements needed for outstanding grape production.
A wide variety of grapes are now being cultivated including top selections such as Tannat, Chardonnay, Cabernet, Merlot and Viognier.
The Tannat grape is now known as the national wine grape of Uruguay. Although this grape variety was once produced solely in France Tannat grapes now thrive in this South American nation. The high levels of natural tannins in these grapes are responsible for the production of a wide variety of richly robust, red wines.
H. Stagnari
Vinos Finos H. Stagnari are the vineyards and winery owned by the Stagnari family. This Uruguay based company frequently wins awards for their fine Uruguay wines. Among the varieties of grapes grown here are the Tannat, Merlot, Viognier, Chardonnay, Franc Cabernet and the Gewurztraminer. The company brand names include Castel La Puebla, H. Stagnari, Dayman and La Caballada.
Alto de la Ballena
Alto de la Ballena is an award winning, boutique winery in Punta del Este. The mild climate and cooler nights are the perfect growing conditions. This winery is located in the foothills of the Sierra de la Ballena range. The natural slope of the land and the looseness of the soil help keep these vineyards well drained ; and the ocean breezes bring cool moisture that helps boost the production of the finest quality grapes.
Alto de la Ballena is the commercial brand of wines produced by the vineyards that bear this same name. The types of grapes grown here include Syrah, Cabernet, Merlot and Tannat.
Antigua Bodega Stagnari
Another winery that is located in La Paz, Cannelones, Uruguay is Antigua Bodega Stagnari. This is a family owned vineyard that produces the Prima Donna and Del Pedregal brands of wine. The Stagnari family considers their wines to be second to none. Many experts agree with this opinion and these well balanced, wines have won a number of prestigious awards in international wine tasting competitions.
A wide variety of grapes are now grown in this area of Santos Lugares, La Paz Cannelones. These grape varieties include Syrah, Chardonnay, Sangiovese, Tannat, Cabernet and Sauvignon Blanc.
Ariano Wines
If you have ever sampled Ariano or Vina Constancia wines then a trip to Uruguay will give you an opportunity to tour the winery and vineyards where these exotic wines are produced. This company produces 9 unique wines including white and red varieties. The Ariano family also creates the Albarino wine which is a unique product for South America.
Today many of the Bouza wines are being sold in a number of other countries including the US, Germany, Dubai, Brazil, England and Mexico. Merlot Unique Parcel, Monte Vide Eu and Tannat Unique Parcel are some of the favorite selections of Bouza wines now preferred by connoisseurs around the world.
El Colorado Wines
Altos de El Colorado wines are produced by the owners and operators of Reinaldo de Lucca vineyards in Canelones, Uruguay. The grapes are grown in soil that is part of a carefully monitored ecosystem. This family run industry is devoted to both the creation of fine wines and the protection of the environment.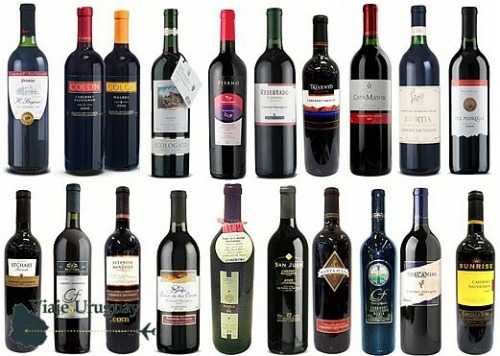 Uruguay wines are a fantastic addition
to any Traditional Uruguay Meal