Travel Uruguay Questions
by Mark and Tara
(Buenos Aires Argentina)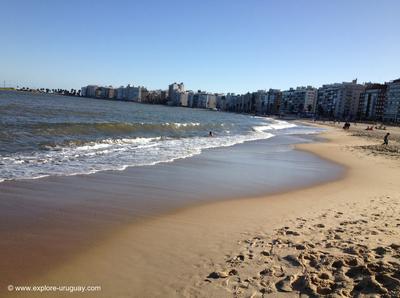 Uruguay Beaches
Question about Uruguay Travel


We are going to travel Uruguay after leaving Buenos Aires in about a week or two and would like to do some camping near the beaches. Do you know of any good camp grounds that are on the beaches? Or close to?
Another question about Uruguay Travel that I have is Also what is the rules about making fires in campsites? Is it allowed on the beaches?
We are backpacking through Argentina and are interested in tent camping in campsites close to or on beaches. We want to just really camp and hang out on the beach for about a week, since we have been on the go for 2 months, haha:) Bit of relaxation!
We are thinking a couple nights at Punta del Este then take a bus to Punta del diablo and do the same. Those are pretty much the two places we have herd about, so if you know of other good camping in between that would be great.
Is it possible to camp at certain places on the beach? What about making fires, is it ok? Or are we limited to stove cooking?
We also are on the look out for a tent. Do you know of some good camping stores we could purchase one? Preferably in Buenos Aries, since we will be there first, but Montevideo would be ok.
What are your thoughts on renting a car for the week? Is it worth it? Or is it ok and easy to take local buses in between beaches?
Thank you so much for your time and help,
Mark
Answers about Travel Uruguay:
Hi Mark
That sounds like an awesome trip you are taking. I do have some suggestions, of areas that I enjoyed and if you want I can post to my 6000 FB friends from Uruguay if you want more specific info than what I will share below.
Punta del Este - will be nuts!
Tourist season is rocking or starting to rock, so accommodations will be expensive and I'm not 100% sure about tenting it there. However, that being said, heading North to La Barra and then working your way up to La Paloma, La pedrera, Punta Del Diablo (awesome choice and one of my favs!)
As well, Cabo Polonio - you can't take a car in but you can take a bus
and its miles and miles and miles of sandy beaches - lots of privacy and really relaxing. Yes, there are all kinds of rentals on the beach and lots of the places you come across will let you pitch a tent.
Fires are usually ok - not much to burn when your surrounded by miles of beach :)
As for the tent. Can't help you in Argentina. Montevideo is the Capital city (Im sure you're aware) and there are lots of places to get a tent there, just like in any other major city in South America.
Don't have a specific suggestion for you on that one though - sorry. But that being said, the people are all so friendly that I am certain if you ask, they will steer you in the right direction - oh, and remember that everything is negotiable ;)
I did rent a car on my last visit. That too was negotiated for US dollars and no receipt, and I got a wicked deal. I preferred the car because I had so many out of the way places I wanted to explore. Although, if you take the bus, you will get some serious "insider" info on the best places to visit and stay at. \
Mingle with the locals - they're mostly all awesome and so welcoming to tourists and people interesting in discovering the
hidden gems throughout Uruguay.
Oh, and one more thing. there are tourist info places everywhere, in every city, So, just stop at one and pick up a map or two. They will show you all the great beach access and campground you can stay at and it really is inexpensive. Im sure you'll have a wonderful time.
I am posting a question to my FB friends from UY.
You can also post on
Explore Uruguay Facebook Page
Here are the 5 most popular responses from my friends in Uruguay
1)
Santa Teresa
, La Coronilla, Rocha
2)
En las cabañas del
tio tom Maldonado hay un monte alli
3)
La Paloma
4)
Manantiales
,
Aguas Dulces
is awesome!
5)
Valizas
is breathtaking and unforgettable
I will send over more info if I think of it. I hope you have a great time. Take tons of pics. I would sure appreciate hearing and reading about your trip and maybe seeing some pics!
Good Luck and Have fun!
Roy